Airbus Relocation Plan Is Just Scaremongering Says Nigel Farage
24 June 2018, 13:06
The aircraft manufacturer said it would "reconsider its investments in the UK" if Britain leaves the single market and customs union without a transition agreement.
The aircraft manufacturing firm said that a 'no-deal Brexit' would result in "chaos at the borders" and that it is running out of patience with the government.
The company, employs thousands of people at sites across the UK, said in a statement: "Far from project fear, this is a dawning reality for Airbus."
"Put simply, a No Deal scenario directly threatens Airbus' future in the UK."
But Nigel Farage believes that Airbus is just scaremongering when it threatens to move operations abroad.
He said: "Where their argument falls to pieces, is aerospace, internationally, under World Trade Organisation rules, is a no tariff regime.
"It makes no difference whether we're in or out of the customs union and single market.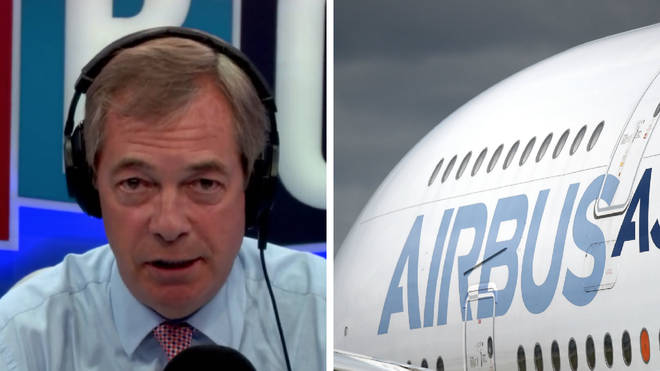 "And Airbus, most of your engines are made in the United States of America, which of course is not part of the European Union.
"And when you threaten us and say you'll close down and move to China, well China isn't part of the European Union either.
"This is business scaremongering."