Eurosceptic MP Says Theresa May Will Be A "National Hero" If She Delivers Brexit
31 August 2017, 16:46 | Updated: 31 August 2017, 16:53
Theresa May will become a national hero if she can deliver a full Brexit, a Eurosceptic Tory MP has told Nigel Farage.
Peter Bone said the Prime Minister was "absolutely determined" to forge a clean break from the European Union, which he said even Nigel would be satisfied with.
The MP for Wellingborough was speaking as Mrs May insisted she wanted to lead the Conservatives into the 2022 election.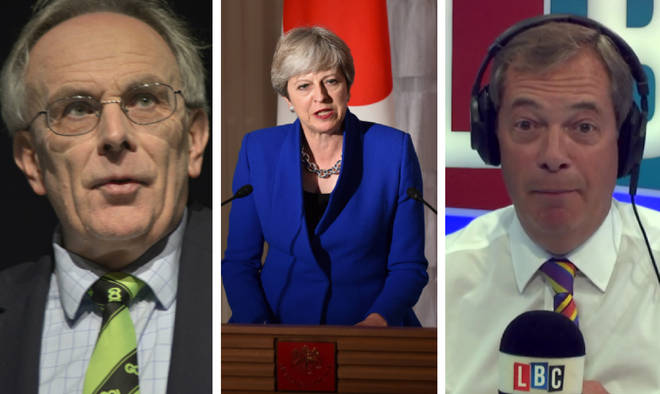 During an official visit to Japan, the Tory leader said she was "in this for the long term" - despite criticism for her performance during the 2017 election campaign.
Mr Bone told Nigel, who was sitting in for Iain Dale, the Prime Minister could turn around her fortunes if she is successful with Brexit.
He said: "If she delivers it and delivers ending free movement, stops giving billions of pounds to the EU, making our own laws in our own country, judged by our own judges - she'll be a bit of a national hero.
"If she does that, then I think she can go on."
He continued: "The establishment are working against Brexit, there are people in my party working against Brexit - it's a huge task.
"If she can get a proper Brexit and over come all these people - then why shouldn't she have a chance of going on?"
Watch the interview above.