Nigel Farage To Campaign For Trump To Recieve Nobel Peace Prize
18 April 2018, 20:37
Nigel Farage has revealed on LBC he is to campaign for Donald Trump to be awarded the Nobel Peace Prize.
The Ukip MEP and LBC presenter said the US President should be given the prestigious honour for his handling of North Korea.
On Wednesday, Trump tweeted that Pyongyang and his CIA director Mike Pompeo formed a "good relationship" during a secret meeting.
It's the highest-level contact between the US and North Korea since 2000.
And speaking from Strasbourg, Nigel said the President ought to be recognised for his efforts.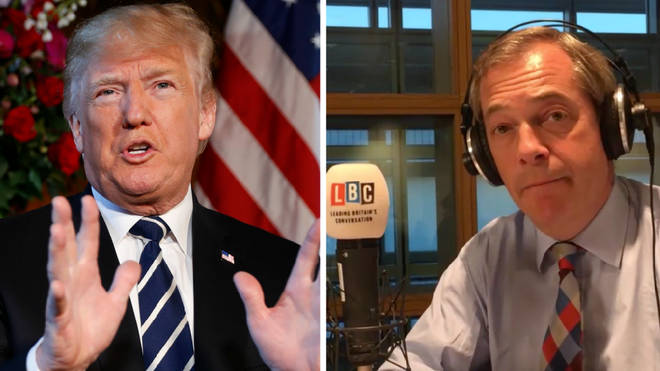 He said: "Those who disagrees with me, I'm going to really upset you now.
"A few years ago President Obama, he was not even 10-months into the presidency and guess what? He got the Nobel Peace Prize for what he might do."
Nigel continued: "I'm going to suggest now that what needs to happen is that President Trump needs to be awarded the Nobel Peace Prize for managing to get talks going with North Korea.
"I think it's fantastic, and I've been looking today at some of the rules and as an MEP I am able to nominate people for the Nobel Peace Prize.
"And I'll be trying to get a petition of MEPs who support this idea."