Nigel Farage Isn't Sure If The EU Wants A Successful Brexit Deal
31 August 2017, 18:34
Following the latest round of negotiations, Nigel Farage has been left wondering whether the European Union even wants to land a Brexit deal with the UK.
The bloc's chief negotiator, Michel Barnier, says "no decisive progress" has been made on key issues during the third round of talks.
However, David Davis, the UK's Brexit Secretary, told the EU to be "more imaginative and flexible" in its approach - insisting "some concrete progress" had been made.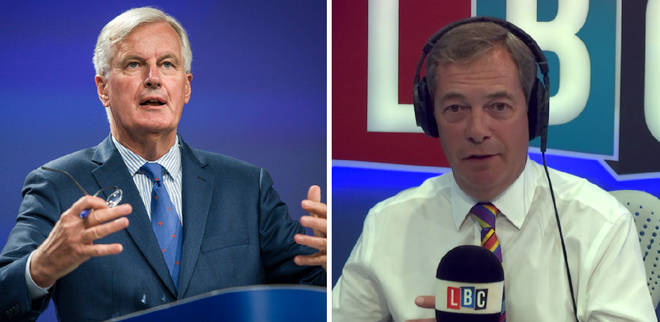 Speaking on LBC, Nigel, who is standing in for Iain Dale, felt the UK was getting the upper hand in the trade talks.
He said Mr Barnier looked "tetchy" and appeared as if he had been "boxed in" by the negotiating position he's been given from the commission.
The former Ukip leader added that he was unsure whether Brussels actually wanted a successful outcome with these negotiations.
He said: "I wonder at times whether Barnier wants a deal or whether a good deal and a positive handshake actually sends a message to other eurosceptic countries that it's OK to leave."