Nigel Farage Meets Michel Barnier: How The Day Unfolded
8 January 2018, 18:21
Nigel Farage has made the headlines once again after he met with the EU's chief negotiator and this is how the day unfolded.
The outspoken LBC presenter and Ukip MEP sat down with Michel Barnier in Brussels on Monday morning.
He vowed to represent the 17.4m Britons who voted for Brexit, after a number of high-profile Remainers previously met with Mr Barnier.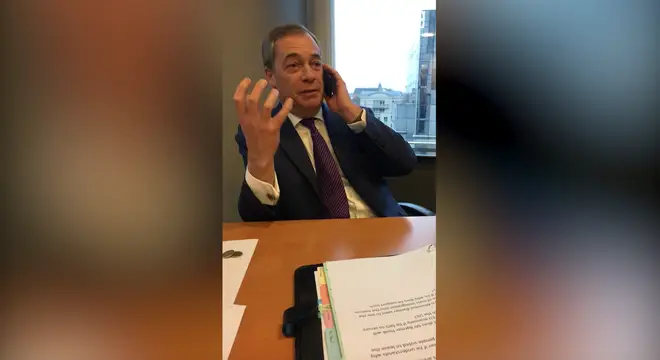 The day began at about 09:00 when Nigel looked over the #AskBarnier questions submitted by LBC listeners.
Twenty-minutes later he spoke to Nick Ferrari at breakfast and told LBC what he was hoping to achieve during the pair's showdown.
At 09:45 Nigel arrived at the EU Commission Building in Brussels where a large group of journalists waited to ask him questions.
An hour later, Nigel emerged from his meeting with Mr Barnier, where he told LBC the EU's top negotiator "didn't understand why Brexit happened".
"I think he completely underestimates the role open-door immigration plays, almost disbelieving," he added.
Watch Nigel's journey in the video at the top of this page.