Nigel Farage: We Must Prepare For Another Referendum, Whether We Like It Or Not
11 January 2018, 20:05 | Updated: 11 January 2018, 20:33
Nigel Farage has urged Brexiteers to prepare for the possibility of another referendum, whether they like it or not.
The LBC presenter and former Ukip leader insisted he was not endorsing a second Brexit vote, but warned it may be "forced upon us".
He admitted he had been in "denial" over the issue, but said his meeting with the EU's chief negotiator on Monday was a wake-up call.
Nigel said Michel Barnier was "not going to give us a good deal" which he believes will be rejected by the UK Parliament.
Speaking on his LBC show, he said: "I fear that both the Commons and the Lords may well do everything they can to put us through a second referendum.
"This deal with Europe has to be finished by October, it could be before the end of this year that Parliament is voting on the final deal.
"As much as I don't want a second referendum I have now begun to open my mind to the possibility that this may be forced upon us."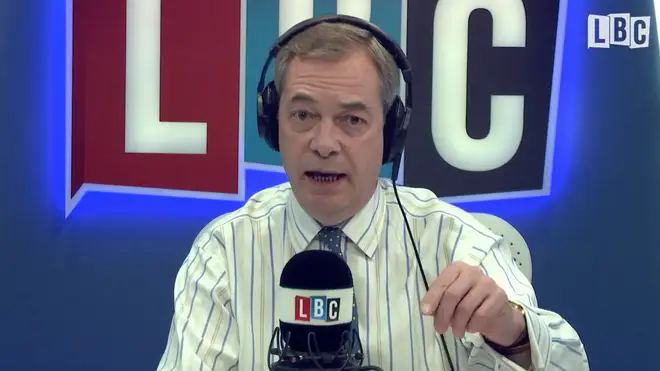 He continued: "Please don't be complacent. Please don't think because we won this great historic referendum that it's all over.
"Look at what's going on with the Remain side, they're on the streets of London every day with their flags and their leaflets.
"Where is the Leave side?"
In his finishing plea to Brexiteers, Nigel said: "I'm saying please get yourselves ready, there may well be a second referendum on this, this is meant to be actually a wake-up call to Leavers.
"I genuinely believe we must prepare for the possibility of a second referendum whether we like that prospect or not."
Watch Nigel's take in full above.