Nigel Farage Says Jacob Rees-Mogg Is The "Right Guy" To Be Next Tory Leader
4 October 2017, 20:20 | Updated: 7 November 2017, 14:19
Nigel Farage says he thinks Jacob Rees-Mogg is the "right guy" to become the next leader of the Conservative Party.
The outspoken LBC presenter said he felt Jeremy Corbyn would be walking into Number 10 if the Tories fight the next election with Theresa May at the helm.
So Daryl in Uxbridge decided to put Nigel on the spot, and asked him who he felt should be the party's next leader instead.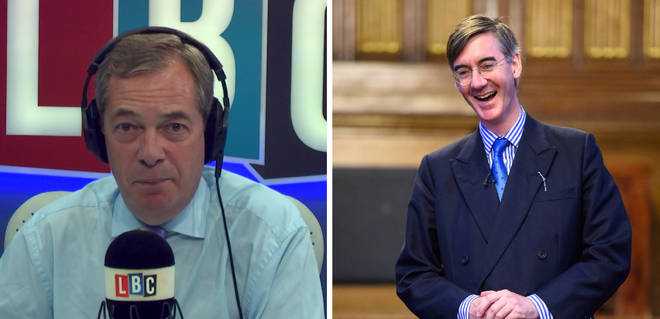 - Nigel Farage's Brilliant Response To Theresa May's Troublesome Speech
The LBC presenter noted that the eccentric backbencher had been a popular choice among his listeners - but never really believed it was possible.
However, Nigel was beginning to wonder if Mr Rees-Mogg was "developing a similar momentum in the Conservative Party that Corbyn did in the Labour Party".
"I'm beginning to think Mogg could do it," he said.
"What is interesting about Mogg is you may like what he stands for, you may loathe what he stands for, but there's never any confusion about where Jacob stands on any single issue.
"I think the Tory party needs to be clear which side of the fence it's on, it'll need a leader that is intellectually brave and robust, prepared to put up with the criticisms, not try to pander to everybody with pathetic slogans."
Nigel concluded: "So Daryl right now if you ask me I think Jacob would actually be the right guy for them."
Watch above and see if you agree.