Nigel Farage's Theory On Why Former Ukip Voters Flocked To Labour
12 June 2017, 20:41 | Updated: 13 June 2017, 07:53
Nigel Farage has revealed his theory on why it appears former Ukip voters turned to Labour instead of the Tories at the general election.
The former Ukip leader was broadcasting his LBC show live from Strasbourg when he gave his assessment.
Many pollster predicted Brits who had previously supported Ukip would instead change their vote to Theresa May because of her Brexit vision.
However, this appears to not have been the case after the Prime Minister lost her majority and Labour made gains after Thursday's ballot.
But what made those who previously backed Ukip switch to Jeremy Corbyn? Nigel says unlike Mrs May, the Labour leader offered change.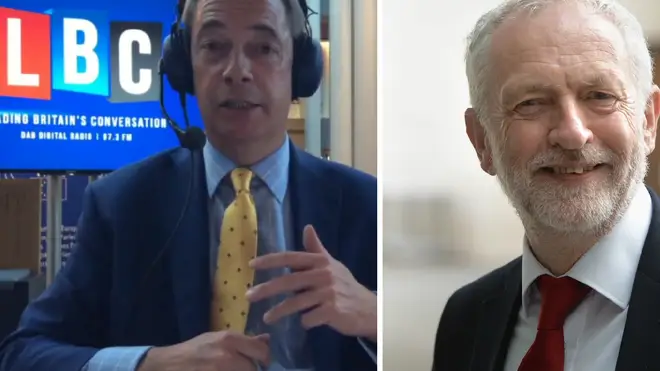 Speaking to LBC caller Paul, Nigel said: "What so many didn't understand was those supporters Ukip picked up last time round and building up to it came from Labour backgrounds.
"They wanted Brexit but they also wanted change. They also wanted an anti-establishment voice and Mrs May's 'strong and stable' actually repelled quite a few of them."
Read more - Nigel Farage: Britain Needs A Prime Minister Who Truly Believes In Brexit