Nadhim Zahawi should resign as an MP, Labour's Chris Bryant says
29 January 2023, 14:36 | Updated: 29 January 2023, 14:49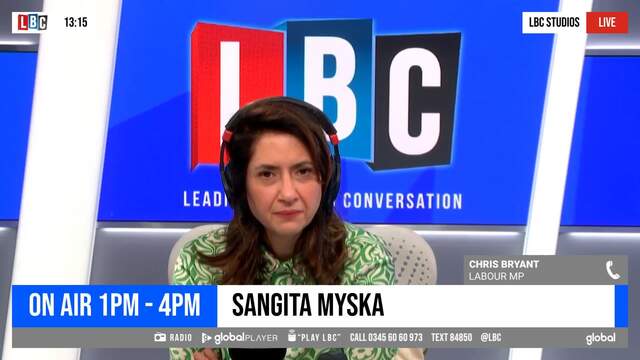 Labour MP Chris Bryant says Nadhim Zahawi should resign as an MP
Labour MP Chris Bryant says Nadhim Zahawi's tax dispute feels like a "deliberate act of deception" and the ex-Tory chairman should therefore resign as a member of parliament.
Sangita Myska pushed the MP for a direct answer as he explained his feelings towards the sacking of Mr Zahawi as a minister.
Labour MP Chris Bryant said he believes voters won't understand how Mr Zahawi can still be a member of parliament after being found to have been "careless" with his tax affairs as a minister.
"What you're describing is not just a breach of the ministerial code you are saying that effectively he has betrayed the public's trust, should he resign as an MP?" Sangita asked.
On Sunday morning Prime Minister Rishi Sunak sacked former Conservative Chairman Nadhim Zahawi after an investigation into his tax affairs.
READ MORE: Rishi Sunak sacks Nadhim Zahawi as Tory chairman after multi-million pound tax row
"Sometimes we get things wrong, I've said things in Parliament that I've had to apologise for because I have got things wrong," the Labour MP admitted.
Sangita brought Mr Bryant back to the severity of Mr Zahawi's case: "But when you got those things wrong were you potentially fined £1.7 million by HMRC? No.
"So in this case Should Nadhim Zahawi resign as an MP, yes or no?"
"Yes he probably should," Chris Bryant announced, "I think voters will find it very hard to understand why he's sticking around".
Mr Bryant also reminded Sangita that Nadhim Zahawi had also threatened to sue journalists who were legitimately reporting on his tax affairs.
'When we made it clear we intended to publish the story he said he would sue.'

Political Journalist Simon Walters, who broke the story about Nadhim Zahawi's tax affairs in July, tells Sangita Myska how he was threatened with legal action.@SangitaMyska pic.twitter.com/leURFJZ3gz

— LBC (@LBC) January 21, 2023
He went on to explain how ministers often have to rectify their mistakes "but in this case, it just feels like a deliberate act of deception".