Caller's Shocking Tale Of Discrimination Because Of His Muslim-Sounding Name
7 August 2017, 14:03 | Updated: 7 August 2017, 14:23
When Zach applied for a job using his father's Muslim surname he never got a response, however when he change his last name to his Christian mother's he got an interview straight away.
The astonishing tale of discrimination came as a Google employee sparked backlash when he argued against programmes to promote race and gender diversity.
The 10-page document, apparently written by a senior software engineer at the internet giant, was originally circulated inside the company before being leaked on to social media.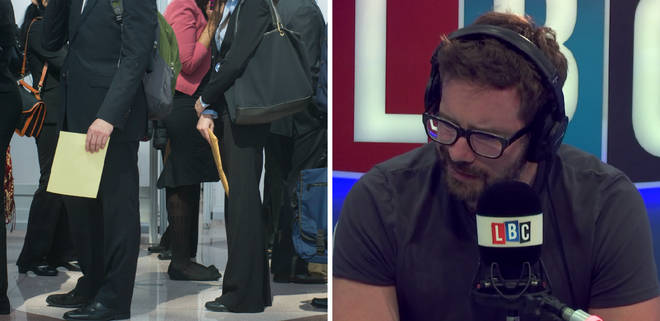 Read more: Google in heated row over sex differences memo
Latest figures show that in Britain, someone with a Muslim-sounding name on their CV is three times less likely to get an interview.
According to the Office for National Statistics, Muslim men have a 76 per less chance of getting a job compared to their white Christian counterparts.
Zach found that out firsthand, as he explained to Stig Abell his absolutely shocking tale.
The LBC caller said he spent a short while unemployed about 10 years ago, but was "perplexed" why he was not getting shortlisted for any interviews.
He said he thought it may be because he was using his father's Muslim-sounding surname.
It appeared his hunch was right, as when he changed his last name to his Christian mother's - he was offered an interview right away.
"I applied for a position where under my father's surname I wasn't shortlisted," Zach said.
"So I tweaked my CV slightly and put my mother's maiden name on it which is now officially my name now and I got shortlisted.
"I was absolutely fuming, I was gobsmacked!"
The caller went on to say that he complained to the company's HR department - who offered him a full apology and the opportunity for an interview.
However, Zach decided to turn it down as that was not the the sort of company he wanted to work for.