Boris's London By Helicopter: LBC Exclusive
5 May 2016, 13:49 | Updated: 22 August 2016, 15:34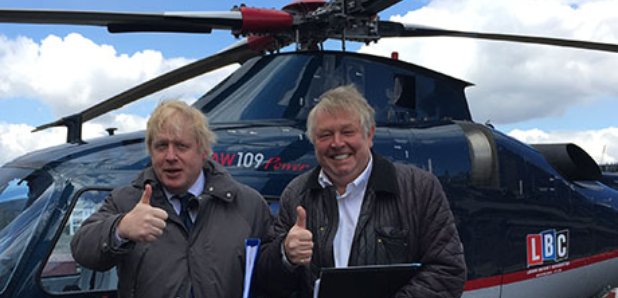 This is what happened when we took Boris Johnson up above London in a helicopter to review his eight years as Mayor.
Boris joined Nick Ferrari in the LBC-copter to take a trip over the capital as the curtain falls on his time running London.
In his own unique way, he told stories of how the the big events happened during his time as Mayor.
The London Riots
"It was terrible, absolutely terrible. It was unquestionably a heart-rending moment.
"I was with my family up a mountain. We got to Calgary airport and I could see what was happening in London. By the time I got there, there was still some stuff going on, but basically the madness was over. It was a sort of contagion.
"I went down to Clapham and there was a mixture of reactions. Some people were heckling because they were confused and frightened, they thought 'Where's the police? What the hell is going on?'
"But the real heroes of that were the people who came spontaneously out of their homes with their brooms and got the whole place looking better again."
But Mr Johnson was thrilled to look down on Tottenham and see an area of regeneration.
He said: "Look at it now. Remember some of those shops that were burned down on Tottenham High Road, all the damage that was done, but you've got the cranes up now there on that amazing stadium site.
"There's going to be transformation some of the estates around there."
The Olympics
What was Boris's favourite part of the Olympics? "I think it was when it was all over! I think it absolutely exhausting!
"Basically you're constant tenterhooks that something is going to go wrong, and indeed lots of things did go wrong.
"We had a couple of security guards who had bomb hoaxes for heaven's sake. And you remember what happened with the bridge on the M4 basically which wouldn't work and then we managed to drive the American team halfway to Essex because the bus driver got lost.
"But there came a point in the Olympics when absolutely nothing could go wrong because people were just caught up by the whole thing - they didn't care anymore."
Woolwich
"I remember that day so well and the absolute agony of people when they heard the news.
"Every day, I think about the risks to London and the great work that the Met have done. I pay tribute to every single one of the 32,000 officers - in fact the 50,000 people in the Met. They're the best police force in the world, no question about it."
Boris was unequivical in his support for the Met Police Commissioner Sir Bernard Hogan-Howe: "I would give Bernard an absolute unqualified thumbs up. I believe he's a great public servant. He's done a huge amount of good for London and you look at our crime figures – the murder rate roughly cut in half."
Cycle Superhighway
It was undeniably one of the most talked-about projects of Johnson's time in charge of the city but he remains adamant that the Cycle Superhighway had been a success.
"Sometimes in politics and in life, you've got to show leadership, you've got to do things that are tough that people don't necessarily approve of and we did, we took a tough decision to build the Cycle Superhighways and it is going to pay off massively.
"My job is to improve the quality of life in London," he told Nick, adding that the "number of deaths on the roads is down at an all-time low."