Exact time Storm Babet will bring 'heavy rain and strong winds' to the UK this week
17 October 2023, 15:14 | Updated: 17 October 2023, 15:16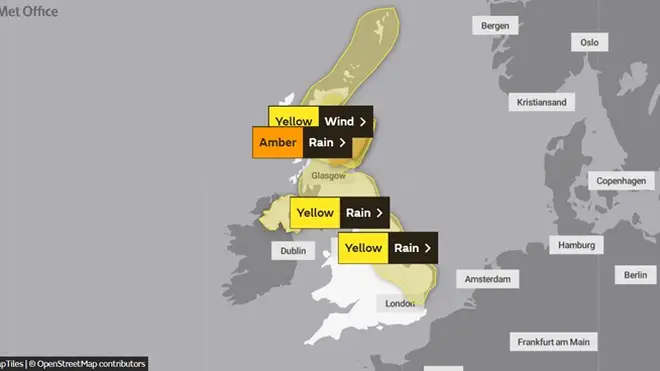 Most of the UK will be hit by heavy downpours later this week when Storm Babet arrives, bringing with it two months' worth of rain and winds of up to 60mph.
Significant rain can be expected for large areas of the country for the rest of the week as the Met Office expects Storm Babet will dump up to 100mm of rain in some areas on Friday.
Most of the UK will experience the worst of the storm on Thursday, but the heavy rain could last until Saturday.
Amber weather warnings are in place from 6am on Thursday to 6pm on Friday.
#StormBabet is forecast to bring impactful heavy rain and strong winds to the UK from Wednesday this week

Here's what we know 👇

— Met Office (@metoffice) October 17, 2023
Separate yellow warnings are in place for Northern Ireland from 2pm on Wednesday until 10am on Thursday, and across vast swathes of Scotland and northern and eastern England from 6am on Thursday to 6am on Saturday.
The Met Office says there could be road closures and difficult driving conditions, and a heightened risk of floods.
The brunt of the storm will hit the UK on Thursday. There's an amber warning for rain in parts of eastern Scotland from 6am on Thursday until 6pm on Friday.
The Met Office predicts it's likely that some buildings will be flooded by deep and fast-flowing floodwater.
The Pennines, Scotland and eastern parts of England will see very wet weather from 6am on Thursday to 6am on Saturday. The storm warning stretches from Chelmsford in Essex to the Shetland Islands.
The rain is not the only thing the storm is bringing. From 3am on Thursday there is a yellow warning for strong southeasterly winds across northern Scotland.
Read More: Storm Babet weather warnings upgraded to amber with warnings of flash floods and gale force winds
Read More: Brits brace for flooding after Storm Agnes arrives with heavy winds and downpours - but warm weather is on the way
The Scottish Environment Protection Agency (Sepa) is encouraging Scottish residents to prepare for the impacts of severely heavy rain.
Flood Duty Manager for Sepa David Morgan said: "Impact from surface water and rivers are likely, and with catchments saturated from recent heavy rain and flooding, we're urging people to be prepared for potential flooding."
The worst of the storm will miss Wales, London, and southern England, but rain is forecast in some areas.
Storm Babet is the second named storm of this year's autumn season after storm Agnes at the end of September, which brought gusts of 70mph.
The Met Office said: "Storm Babet will bring impactful rain to many parts of the UK, but especially parts of eastern Scotland, Northern Ireland and northern England later this week. Heavy and persistent rain will fall onto already saturated ground bringing a risk of flooding. It is important to stay up to date with warning from your local flood warning agency as well as the local authorities."