Storm Babet weather warnings upgraded to amber with warnings of flash floods and gale force winds
17 October 2023, 13:19 | Updated: 17 October 2023, 13:23
Weather warnings for Storm Babet have been upgraded to 'amber' by the Met Office.
The storm is predicted to bring up to 200mm of rain and gale-force winds that may cause widespread flooding.
The most severe conditions will hit eastern Scotland where an amber warning is in place from 6am on Thursday until 6pm on Friday.
Yellow weather warnings are in force for much of the rest of the UK from tomorrow until Saturday morning.
As much as 150 to 200mm of rain is expected to fall on central and eastern areas of Scotland and there is a possibility of 70mph gale-force winds affecting northern parts of the UK.
Scotland typically receives 168mm of rainfall in October, but the country will receive more than this amount in the span of a few days.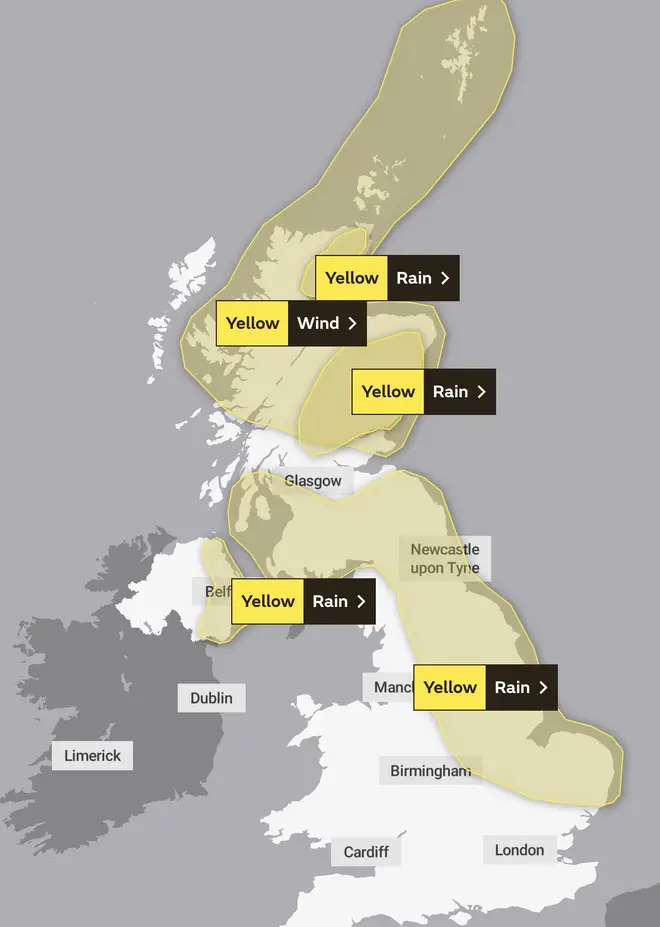 The heavy rain may also cause "fast-flowing and deep floodwater" that could pose a "danger to life", and there is also a chance of essential services like gas, water and mobile phone signals being disrupted.
Parts of England can expect more than 100mm of rainfall during the week with some isolated areas facing up to 150mm.
As the storm approaches on Tuesday, forecasters said gale-force gusts could occur along the coasts of Wales and southwest England, as well as to the west of higher ground areas such as Dartmoor in southern Devon and Eryri in northwest Wales.
Stephen Dixon, a Met Office spokesman, said: "A disruptive period of weather is on the way.
"There's some high totals (of rain) which have the potential to disrupt travel plans... possibility of power cuts as well as the obvious risk of flooding.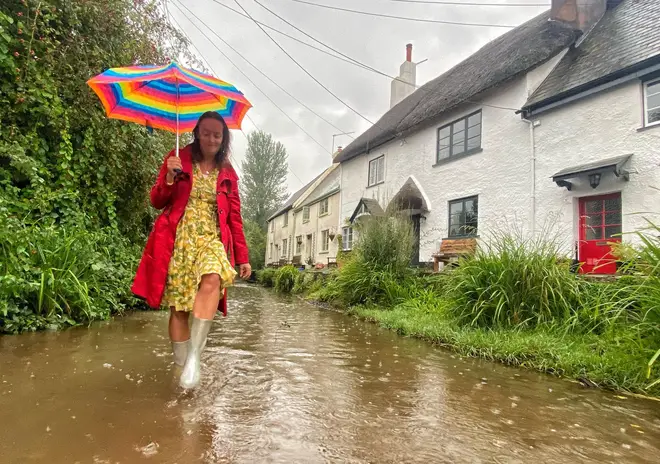 "As you look at Wednesday, the first pulse of rain is looking to particularly influence Northern Ireland, Wales and the southwest of England, and into Thursday.
"But it's as you move from Thursday and into the week that shift very much focuses more towards central and eastern Scotland, but also some central and eastern areas of England as well."
He added that further weather warnings are likely to be announced by the Met Office in the coming days.
David Morgan, flood duty manager for the Scottish Environment Protection Agency (SEPA), said: "Storm Babet will bring heavy rain and high winds across Scotland from Wednesday evening, starting in the south west before moving across to the north east through Thursday and into the weekend.
"Flood alerts and warnings will be issued as required, and we continue to work with the Met Office to monitor the situation 24/7."
The Royal National Lifeboat Institution has urged the public to exercise "extreme caution," particularly along exposed cliffs, seafronts and piers.