UK weather: More rain alerts issued as millions try to get away for Christmas
21 December 2019, 12:48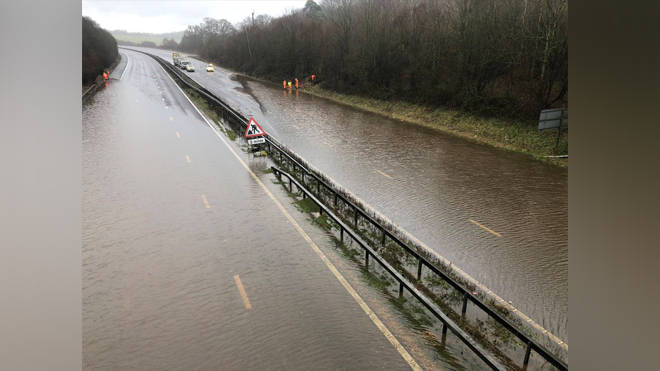 Millions of Brits were battling adverse weather for a second day today as they tried to make their way back home with days to go until Christmas.
Downpours were set to cause further havoc in the south of England with the Met Office issuing a yellow alert for rain on Saturday and Sunday.
Over 96 flood warnings and 240 flood alerts are still in place today across England. Flood defences have been put up in some parts of the south.
Yesterday, flooding led to long queues on the M23 motorway and hindered access to Gatwick Airport for Christmas travellers. Sussex police described the road conditions as "miserable" and said there was a "lot of standing water" on the road.
The M23 eventually reopened yesterday afternoon after successful efforts to pump away rainwater which had cascaded onto the road.
There were also delays due to flooding on the A12 in Essex and the A20 in West Kingsdown, Kent.
In the south, downpours of 4-5mm of rain in one hour are expected. The River Darent in Kent burst its banks overnight. Southern rail has warned of possible disruption.
Network rail said there will be disruption to Great Northern, Gatwick Express, Thameslink, Southern services until midday on Sunday. 
They said: 'Heavy rain is forecast in the South of England this weekend and is likely to cause disruption to train services.'
Southern rail said: 'For now you should travel as you usually would, but be sure to check closer to the time of your journey as the weather and its affects can be unpredictable.'
Half a month's rain fell between Wednesday and yesterday morning.
The RAC has warned motorists to expect 'bumper-to-bumper' traffic in the next couple of days, with 31.2 million journeys set to be made in the run-up to Christmas.