39 bodies found in lorry container in Essex that travelled from Zeebrugge
23 October 2019, 09:38
A murder investigation has been launched after 39 bodies were found in a lorry container in Essex.
The bodies of 38 adults and one teenager were found around 1.40 am at Waterglade Industrial Park in Grays.
The driver of the lorry, a 25-year-old man from Northern Ireland, remains in custody having been arrested on suspicion of murder.
Essex Police said they planned to move the trailer and lorry to a secure location in Tilbury Docks.
Deputy Chief Constable Pippa Mills said: "We have been progressing our investigations at the scene here in Grays throughout the day.
"In order to ensure we maintain the dignity of the people who sadly lost their lives, we will be moving the lorry and the trailer shortly.
"Once that movement has happened we will remain here to complete some scene examinations before we can allow all the business operators back to their premises."
Police initially believed the lorry had come into the country from Bulgaria, but following investigation Essex Police said they now believe the trailer unit to have travelled from Zeebrugge
Aerial footage from the scene shows forensic officers walking in and out of the lorry which is parked on Eastern Avenue opposite Pirtek and Hydraquip.
Two tents have been erected - one in front of the lorry and one behind it with police vehicles on either side.
Police have taped off the area as they investigate.
Chief Superintendent Andrew Mariner said: "This is a tragic incident where a large number of people have lost their lives. Our enquiries are ongoing to establish what has happened.
"We are in the process of identifying the victims, however I anticipate that this could be a lengthy process.
"We believe the lorry is from Bulgaria and entered the country at Holyhead on Saturday 19 October and we are working closely with our partners to investigate.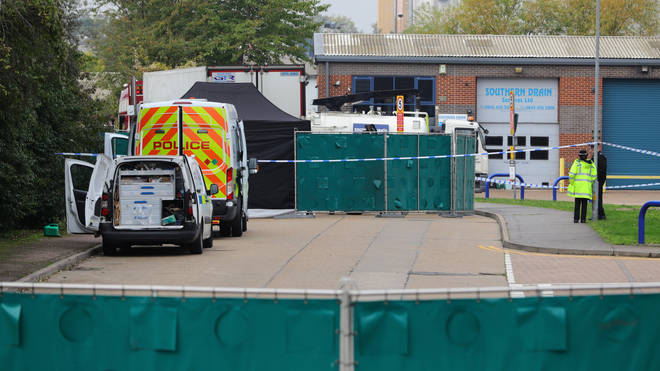 "We have arrested the lorry driver in connection with the incident who remains in police custody as our enquiries continue. I appreciate this cordon is going to disrupt the activity of local businesses in the area and we will work to ensure that disruption is kept as short as possible.
"We are working with Thurrock Council to mitigate against any impact our investigation scene will have locally."
The East of England Ambulance Service said in a statement: "The East of England Ambulance Service NHS Trust (EEAST) responded to a call to Eastern Avenue in Grays in the early hours of this morning (23 October) and sent five ambulances, Hazardous Area Response Teams and a car from the Essex and Herts Air Ambulance.
"Unfortunately 39 people had died prior to our arrival."
The National Crime Agency said they have sent officers to assist the police and Immigration Enforcement to "provide specialist support to urgently identify and take action against any organised crime groups who have played a role in causing these deaths."
I'm appalled by this tragic incident in Essex. I am receiving regular updates and the Home Office will work closely with Essex Police as we establish exactly what has happened. My thoughts are with all those who lost their lives & their loved ones.

— Boris Johnson (@BorisJohnson) October 23, 2019
Haulage industry experts suggested the lorry was likely to have arrived in Ireland from Cherbourg or Roscoff, avoiding the tighter checks for people smuggling at Calais and Dover.
Richard Burnett, chief executive of the Road Haulage Society, said "this tragedy it highlights the danger of migrant gangs people-smuggling on lorries".
He said: "It's highly unlikely that if this vehicle has come from Europe that it's been physically checked.
"Because of the migrant issue at Dover and Calais, you've got far more checks."
Seamus Leheny, Northern Ireland policy manager for the Freight Transport Association added: "If the lorry came from Bulgaria, getting into Britain via Holyhead is an unorthodox route.
"People have been saying that security and checks have been increased at places like Dover and Calais, so it might be seen as an easier way to get in by going from Cherbourg or Roscoff, over to Rosslare, then up the road to Dublin.
"It's a long way around and it'll add an extra day to the journey."
A cordon has been put in place and access to and from the Waterglade Industrial Park remains closed.
People who work on the industrial estate spoke of their shock.
Dan Peters, managing director of Pirtek, a hydraulic maintenance company, said: "We're not able to gain access to our units to open up for daily business.
"Obviously, it's terrible news."
Mr Peters said the industrial estate is made up of courier and logistics companies.
Paige Wade was driving past the industrial park at 4.15am on the way home from work.
She said: "I honestly didn't see much, I had just finished work while driving up Motherwell Way and all you could see was blue flashing lights, as I was driving past there was police tape to cordon off the start of Eastern Avenue.
"I knew it was serious because of how many police cars and ambulances were there, but the police had parked their cars across the whole access of the road so you couldn't see anything.
Shocked & saddened by this utterly tragic incident in Grays. Essex Police has arrested an individual and we must give them the space to conduct their investigations.

— Priti Patel MP (@patel4witham) October 23, 2019
"There's always lorries around there as they park up there for the night, I couldn't say whether I did or didn't see the actual lorry in question."
The bodies of 58 Chinese people were found in a container at Dover, Kent, in 2000.
Seven men were jailed by a Dutch court for their role in the human smuggling operation that led to the young people suffocating and the Dutch lorry driver was jailed for 14 years.
A spokesman for the ministry of foreign affairs in Bulgaria said: "Our embassy in London is in contact with the British authorities to clarify the case involving the 39 people found dead in a truck in Essex.
"The British police have been contacted and a representative of our embassy has also had a meeting at the Foreign Office in London.
"At present, it has not yet been confirmed whether the truck has a Bulgarian registration.
"There is also no indication of the nationality of the human bodies found in the truck.
"British police have warned that the identification of the bodies will take a long time."