Dashcam Footage: Bentley Driver Flees After Smashing Into Car At 85mph In Quiet Village
15 February 2018, 10:39 | Updated: 28 October 2019, 15:21
This is the moment the driver of a Bentley Continental lost control of his car as he sped through a sleepy Chilterns village at 85mph and crashed into an oncoming driver.
The incident was caught on the dashcam of the car he hit.
Richard Plum was estimated to be driving at 85mph as he went around a corner in Old Amersham, Buckinghamshire.
He smashed into the car of pensioner Tim Edwards, who had been patiently waiting at a give-way junction.
His 4x4 was sent spinning 360 degrees through a garden wall - and the car automatically called the emergency services.
Plum called and friend fled the scene, but was caught after police tested blood on his car's steering wheel.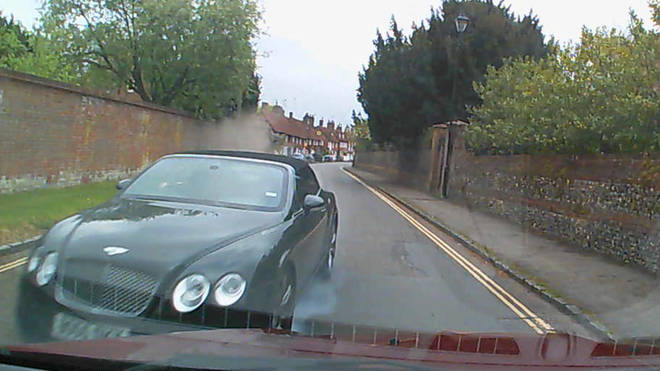 He was jailed for 14 months and banned from driving for four years and seven months after admitting dangerous driving and failing to stop.