Brave Bystanders Wrestle Huge Knife From Raging Teenager
20 August 2018, 10:14 | Updated: 28 October 2019, 15:21
This is the horrifying moment have-a-go heroes tackle a teenager grasping a huge knife during a brawl in London.
Brave passerby's stepped in to help when a fight between two men involved a huge knife in east London.
As the two men push into the street, hero bystanders rushed over to to try and break the pair apart.
During the confrontation, one of the concerned shoppers can be seen trying to take the knife from one of the arguing men.
Moments later, another two men attempt to remove the knife from the fight but as they reached in, the blade's protective cover flicks off and the group break away from each other.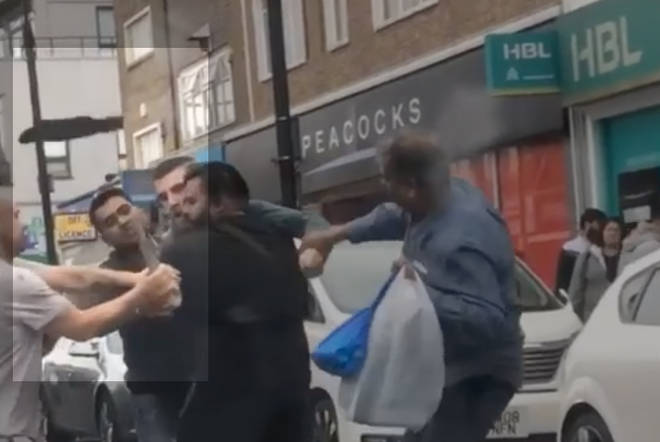 The dramatic footage was filmed from inside a parked car nearby and shows the moment the protective cover goes flying through the air.
One of the intervening bystanders then covered the blade before police arrived at the scene.
A spokesperson for the Metropolitan Police said: "Police in Newham were called to Green Street following reports of a fight.
"Officers attended and found a man in his twenties suffering from a stab wound to the hand.
"A 16-year-old man has been arrested on suspicion of GBH."