Bungling Bandit Drops Gun During Attempted Store Robbery
13 September 2018, 15:52 | Updated: 28 October 2019, 15:21
The would-be robber only succeeds in dropping his weapon and then his trousers as he tries to hold up an E-cigarette store.
The suspect was caught on camera entering an E-cigarette shop in Aurora, Colorado in the US on 2nd September.
Approaching the counter, he starts to chat to the cashier before reaching into his waistband to draw the gun.
Unfortunately, the weapon slips through his fingers and falls over the counter.
He then tries to hurdle the counter to reclaim the pistol, but sensing the worker will get there first, turns away and flees the store with his trousers falling down.
The female employee picks up the gun, a BB gun with the orange tip removed, and locks the door.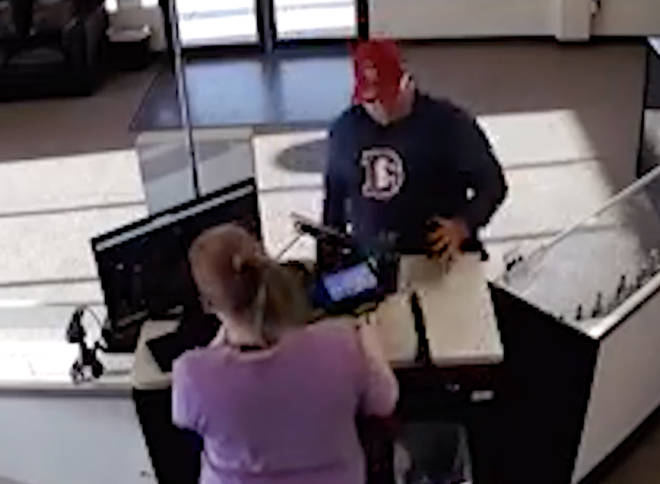 Police in Aurora released the footage with the tagline: Can you help us solve this armed robbery?
The accompanying statement read: "We are asking for your help in identifying the man in this video who attempted to rob the E-Cig of Denver located at 2222 S. Havana St. on Sunday.
"This would be robber attempted to pull a replica handgun from his pants but sends it flying over the counter instead.
"The suspect is a white male who was wearing a red hat, a blue Denver Broncos sweatshirt with an orange "D" on the front, black pants, sunglasses, orange gloves and white shoes."
The man is still at large.