City centre on lockdown after 'shots fired' from flat
3 December 2019, 20:18
A man in his twenties has been arrested after Coventry city centre was placed on lockdown this evening.
Armed police were scrambled to the scene in the shopping area of the city after people reported hearing a firearm being discharged.
The man was taken into custody on suspicion of of possession of an imitation firearm, and is being questioned by police.
Staff and shoppers were urged to stay indoors during the incident and police have said they believe the firearm is a blank firing pistol.
Cas Smith, who works in a restaurant near the scene, told LBC News: "A policewoman came in and said there was a gunman and told everyone to get away from the window and put the blinds down.
"Everyone was quite calm, people just moved and they didn't think much of it.
"The police haven't come in again yet, it has been roughly an hour and the situation outside seems the same.
"There are two police gunman outside aiming at the building across.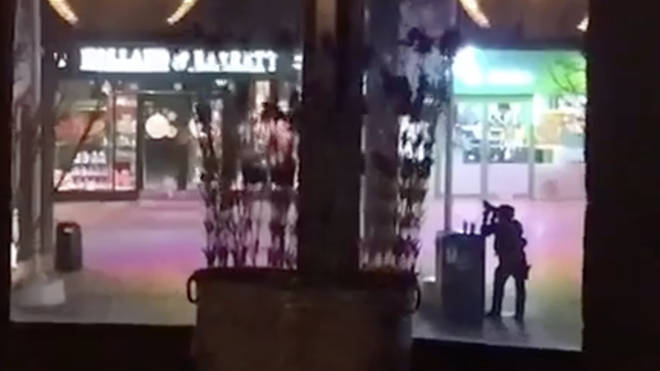 "I think everyone is aware of what happened last week but I think people don't see what is happening now.
"Police have suggested it was a blank firing pistol, so I don't know why they haven't gone in [the flat]. I guess they don't want to take risks."
A statement from West Midlands Police said: "Police were alerted at 5.50pm today (Tues 3 Dec) to reports of a firearm being discharged from the window of a flat in Broadgate, Coventry city centre.
"Armed police have been deployed to the scene.
"Casings have been recovered that suggests the firearm is a blank firing pistol.
"No-one has been injured."
The cordon has now been lifted.