Dramatic body camera footage shows moment police tackle Manchester attacker
27 November 2019, 14:19
A man who stabbed three people at Manchester's Victoria train station on New Year's Eve has been sentenced to life with a minimum term of 11 years.
Footage released by British Transport Police shows officers rush to stop knife-wielding attacker Mahdi Mohamud as he attacked three people at Manchester Victoria.
Mahdi Mohamud, 26, was sentenced at Manchester Crown Court on Wednesday, and ordered to serve his sentence in a high security psychiatric hospital.
He admitted a terror offence and three counts of attempted murder following the knife attack at the train station last New Year's Eve.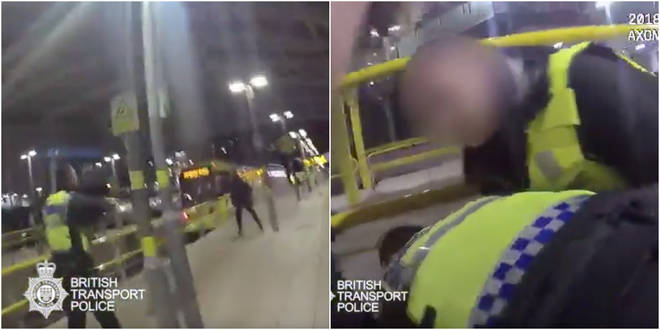 The court heard how shortly before 9pm last December 31, Mohamud launched his attack on a couple in their 50s and a police officer, Sgt Lee Valentine.
He raised a fillet knife and walked up behind unsuspecting James Knox, screaming "Allahu Akbar!" and "Long live the Caliphate!" as he stabbed his victim repeatedly in the back, shoulders and head.
Mohamud then turned the knife on Mr Knox's companion, Anna Charlton, slashing her across the face after the couple, in their 50s.
He was confronted by two British Transport police officers and tram staff after they heard screaming. He was Tasered by Sgt Valentine, 31, but it failed to paralyse him, and the defendant then stabbed the officer in the shoulder.
Mohamud has been diagnosed with paranoid schizophrenia but the condition may only have "disinhibited" his behaviour from something he was already planning due to his ideological beliefs, the court heard.
His symptoms include hallucinations, "complex persecutory delusional beliefs", believing his actions are being controlled, and that he is being followed by MI5 and targeted by the government.
In a letter to the judge the defendant's father said he felt a "terrible sense of guilt" for not getting his son the right treatment earlier and thanked police and the emergency services.