Passers-by tackle gang who tried to raid London jewellers
26 October 2019, 08:53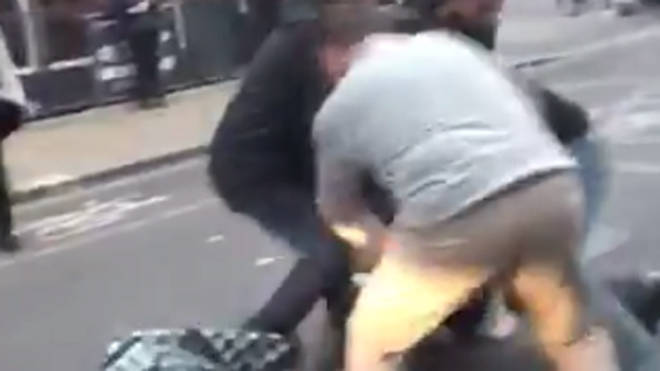 This is the moment a group of Londoners tackled masked robbers who carried out a ram-raid on a jewellers.
The gang targeted a shop in Shepherd's Bush, West London, by smashing a black Range Rover into a neighbouring shop.
The suspects try to flee the scene, with two of the men appearing to make their getaway, carrying bags of stolen goods, and one man seen brandishing a weapon at passers-by.
But one of the men, who was attempting to flee with a large bag, stumbles while running away and is held down by members of the public before police arrive.
An onlooker wrote: "This is craaazy!!! Dont mess with the neighbourhood for real!!!"
A police spokesman said: "Police were called at 17:21hrs on Friday, 25 October to Uxbridge Road W12 after a car was reportedly driven into the shop front of a jewellery store before the occupants got out and began trying to steal goods.
"One male [age unknown] has been arrested on suspicion of robbery.
"Enquiries are ongoing to locate at least two other suspects who fled the scene.
"A crime scene is in place. Enquires continue."