Man Tries To Throw Girlfriend In Front Of Oncoming Train
16 August 2018, 12:04 | Updated: 28 October 2019, 15:21
This is the horrifying moment a teenager attempted to hurl his girlfriend in front of a train.
Lucas Gary Narkle, a 19-year-old from Adelaide, pleaded guilty to endangering the girl's life. He has been remanded in custody since the incident occurred in October 2017.
Narkle is seen on CCTV footage picking up his then 14-year-old girlfriend from a bench at Elizabeth South Station, trying to drag her in front of an oncoming train approaching at full speed.
The girl, who is five years Narkle's junior, was less than a metre away from the tracks as the train approached, narrowly escaping death as she clung to the bench the pair were sat on.
He was found armed with a baseball bat, although it was confirmed in court that the weapon was not used.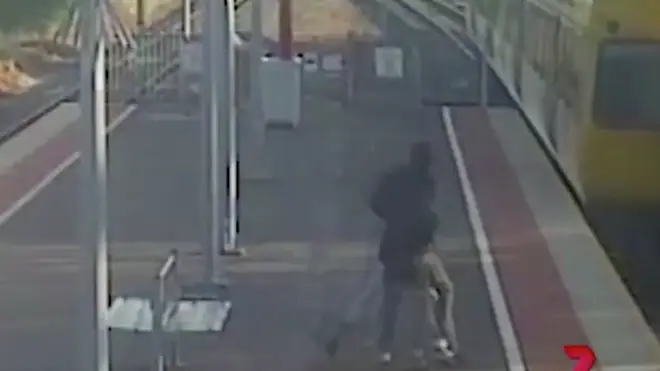 However, Judge Simon Stratton suggested that a jail term is unlikely, saying: "I have to bear in mind that his actual actions here are brief, irresponsible and didn't cause any physical harm at all."
Narkle was 30 minutes late to his hearing earlier this week. His only comment to reporters outside of the court was "Shout out to my boys in Yatala [labour prison]"
He will be sentenced on Thursday.