WATCH: Daylight Shooting Results In Police Chase Across Birmingham
22 December 2017, 13:11 | Updated: 28 October 2019, 15:21
Dramatic footage shows how a police manhunt unfolded after a daylight shooting in Birmingham which left one person injured.
The incident unfolded after a gang attempted to raid a jewellery store in the city.
Police video shot from both the ground and air shows how the four men grouped together to plan the attack.
The group dispersed after shots were fire, leading to a massive operation to find the perpetrators involved.
One of the gang, Tyan McCooty was arrested later that day.
A search of the area resulted in a bag being found with a revolver and five rounds of loaded ammunition.
After an extensive trawl, CCTV showed McCooty had been the individual who had fired the gun.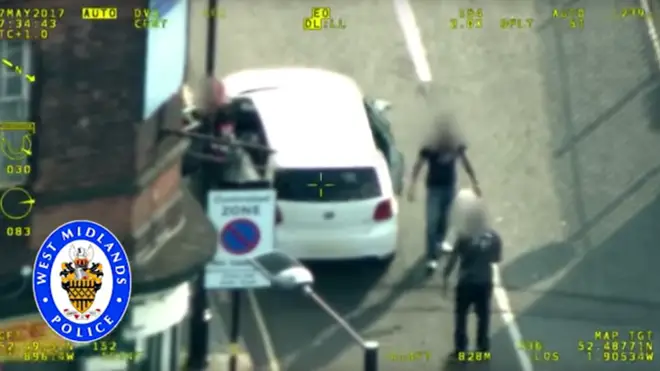 McCooty, from Handsworth, received seven and a half years in prison for wounding, and another five years for possession of a firearm set to be served consecutively.
He also was sentenced to three years for attempted to robbery and three years for possession of a firearm.  
The getaway driver, Damel Lebert, was sentenced to eight months in prison.
Shyieme Lynvest was arrested at Birmingham airport when he attempted to leave the country and was sentenced to three years for possession of a firearm and affray.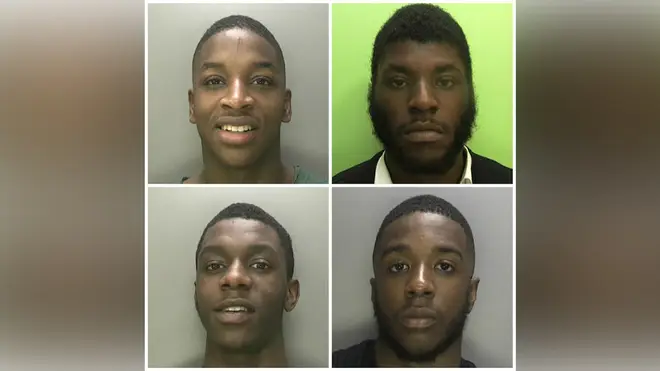 Detective Constable Hugh Nelson, from the Complex Team at Force CID, said: "It appears that the initial meeting between the parties was one of chance after which the intention to rob jewellery from one victim was formed.
"Sadly it resulted in a man being shot in broad daylight on a busy street in the city centre.
"McCooty was carrying a firearm, passed to him by Lynvest, which McCooty then discharged while attempt to commit the robbery. He then threw the gun away and tried to hide from officers.
"We were able to piece together what happened by trawling hours of CCTV and also recovered the weapon.
"A video of his arrest later emerged on YouTube which McCooty hoped would add to notoriety.
"Ironically, 'looking at the strength' of all the evidence gathered and presented, four men involved in gun crime have now been convicted and taken off the streets.
"I hope this provides some comfort to their victims and reassures people that we are committed to tackling gun crime in the city."