Police appeal for witnesses of suspected hate crime attack in south London
27 September 2019, 11:57
Police are appealing for witnesses and victims of two suspected homophobic attacks in south London to come forward.
Four people were sprayed with a corrosive substance in two incidents around Brixton in the early hours of 19 January.
The first incident saw two male victims being sprayed with the unidentified substance in a KFC on Brixton Road, while the second happened at a nearby bus stop on two 22-year-old victims.
Police are treating the incidents as linked and are also appealing for the victims of the first attack to come forward.
CCTV footage captured inside the KFC restaurant pictures five men that investigators want to track down in connection with the incidents.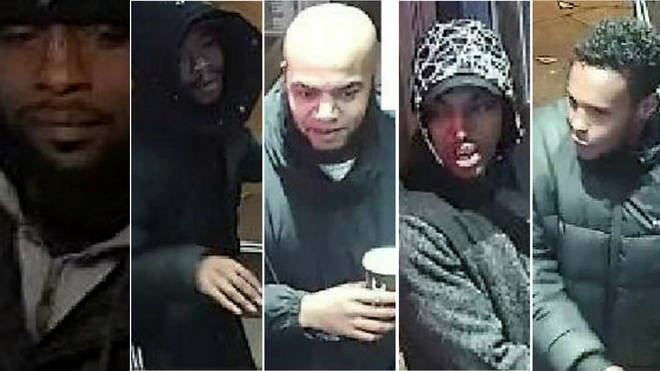 Alongside the video footage, detectives have described all the suspects as black males and detailed each of their clothing.
One was wearing a black beanie, grey tracksuit with dark elbow patches and a gilet-type jacket, while another was described as having a chin-strap beard and of tall, muscular build.
The third, who was seen wearing his hood up, also had white scribbles on his jumper.
The fourth was wearing a dark, navy tracksuit with multiple stripes on the legs, and the final suspect was described as being of a larger build than the others, with curly, short hair, green tracksuit trousers and a black puffa-style jacket.
In a statement, Detective Constable Amy Cross condemned the "abhorrent" attack and suspected homophobic motivations, and called for any witnesses and two of the victims to come forward.
"This was a completely unprovoked and targeted attack," she added.
Anyone with information is asked to conduct Lambeth CID by dialling 101 and quoting reference CAD 1206/19JAN19.