Police hunt football fans who threw bottles, bricks and concrete at Spurs vs Ajax
29 November 2019, 08:06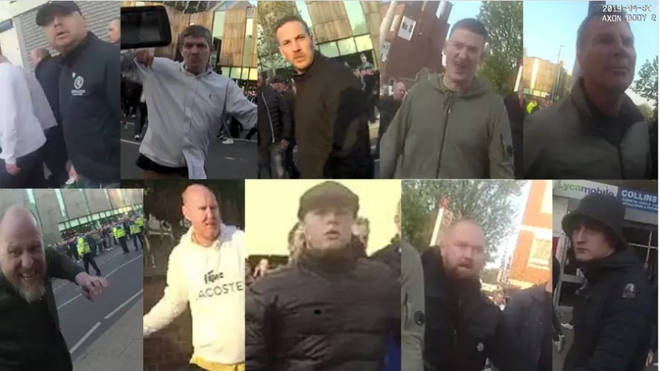 Police have appealed for help identifying 10 Tottenham fans who took part in "totally unacceptable" violence before their team's Champion's League semi-final match against Ajax in April.
Officers have said they wish to speak to the men regarding disorder before the match which led to multiple injuries and a police officer being assaulted.
The two teams' fans were separated as they walked down Tottenham High Road, however a clash broke out at the junction between Tottenham High Road and Brereton Road.
The groups threw glass bottles, bricks and concrete slabs at each other in violent scenes.
Police say the men were seen breaking up pieces of pavement and wall and hurtling fragments at each other.
Eight arrests were made at the time, three for violent disorder and one for assaulting a police officer.
Another man was arrested for a racially aggravated public order incident.
Four men from the Netherlands who travelled to London for the game have already been sentenced for their involvement in the disorder, and a further 8 have been identified for investigation.
Detective Matt Simpson from the Met's Public Order Investigation Team, said: "I would urge anyone with information on the identity of these individuals to come forward and assist us with our enquiries.
"Officers faced unacceptable levels of violence before this football match, with groups of men arming themselves with bricks and bottles.
"We have made a number of identifications already but we are now appealing for the assistance of the public in identifying the remainder.
"Anyone who recognises those pictured should call us directly on 0208 2469386 or call Crimestoppers anonymously on 0800 555 111."