Police Release Harrowing CCTV Of Moment Grandmother Is Killed In Hit-And-Run
30 November 2017, 15:48 | Updated: 28 October 2019, 15:21
Harrowing footage has been released by police of a fatal hit-and-run crash in a renewed bid to catch those responsible.
Krishna Devi Droch was killed as she crossed the road on her way to morning prayers in Handsworth, West Midlands.
She died at the scene after being struck by a Vauxhall Zafira travelling on the wrong side of the road.
Moments before the horror crash, the car had been seen travelling through a red light and was closely followed by two other cars.
All three vehicles were found abandoned within 24 hours of the collision around 11am on Thursday 9 November – the Zafira having been burnt out less than two miles away.
Forensic examinations continue to help identify the occupants of all three vehicles.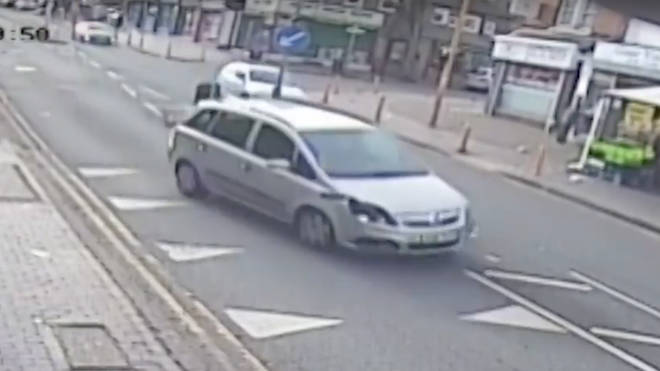 Four people have been arrested as part of the on-going investigation – three arrested on suspicion of causing death by dangerous driving have been released pending further enquiries.
Darren Holness, 47, of Leonard Road, Handsworth, was charged with perverting the course of justice.
He appeared at Birmingham Magistrates' Court on 14 November and was remanded in custody until his next appearance at court on 12 December.
Krishna's family have supported an appeal for information to help identify the occupants of all three cars.
Her brother Baldev Korotania said: "Krishna was the foundation of our family, who was always there when we needed her. Her caring and compassionate nature will forever be missed by us.
"The grandchildren she has left behind are still waiting for her to come home. Although nothing can replace what we have lost, her love and care will remain in our hearts forever.
"The individuals responsible are still out there and the only closure for our family throughout this difficult period, is for them to be brought to justice."
Detective Sergeant Paul Hughes said: "This tragic event has brought devastation and loss to a whole family and a larger community who knew and loved Krishna.
"We know that there were many people on Rookery Road that day, and there will be people we have not spoken to. I would appeal directly to them to come forward. The information you have may seem insignificant to you, but may be the piece of the puzzle we need to identify the occupants of the cars.
"I would urge those responsible to give themselves up before we come knocking at their door."
The Collision Investigation Unit can be contacted on 101 or information can be given anonymously to Crimestoppers on 0800 555 111.