Police release terrifying footage of motorcyclists speeding at almost 200mph
29 November 2019, 12:06
The three motorcyclists can be seen undertaking a series of dangerous stunts, including wheelies and speeding at almost 200mph.
The shocking footage has resulted in the conviction of the three bikers for dangerous driving offences.
The extent of their dangerous stunts was discovered when police seized the GoPro head camera of one of the men following reports of dangerous driving and a road traffic collision in East Sussex in April.
From this, police managed to identify three of the riders, Thomas Ettridge, Thomas Hayden and Matthew McLaven.
The footage revealed a large number of motorcyclists in convoy between Kent and Sussex.
It also shows Ettridge overtaking other vehicles at a speed of 190mph, well over the 70mph speed limit.
He also performs a wheelie at 80mph in a 40mph zone, and overtakes numerous vehicles by contravening double white lines on numerous occasions.
This included overtaking an articulated lorry on approach to a right-hand bend.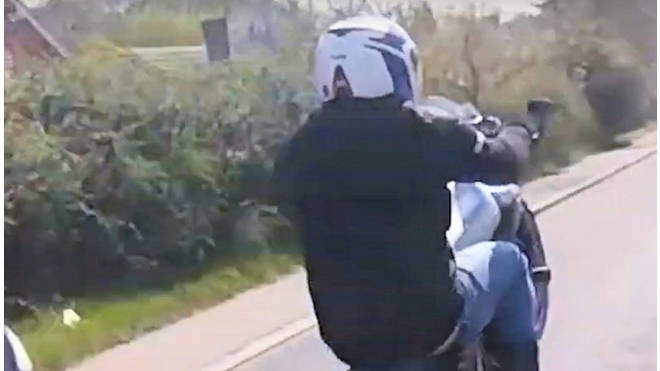 The footage captured Ettridge reaching speeds of 130mph in a 40mph zone full of traffic and passing on the wrong side of a "keep left bollard", straight into the path of oncoming cars.
The GoPro also shows Hayden performing two wheelies, one for 170 metres at 70mph in a 40mph zone.
Hayden is then shown to undertake a taxi within a zebra crossing.
McClaren speeds throughout the footage and overtakes moving traffic by contravening double white lines.
Each of the men pled guilty to dangerous driving and were convicted at Hove Crown Court on 20 November.
Judge Mooney described the motorcyclists' actions as "colossally stupid and massively selfish" and said it was "nothing more than good fortune that you were not killed or injured".
He added that while their riding was "appalling", but for this day the defendants were "all thoroughly decent young men".
Ettridge, 26, of New Road, Dartford, Kent, was sentenced to 10 months' imprisonment and disqualified from driving for 29 months from the date of release.
Hayden, 26, of High Grove, Greenwich, was sentenced to six months' imprisonment and disqualified from driving for 27 months from the date of release.
McLaven, 28, of Farnham Road, Welling, Kent, was sentenced to four months' imprisonment, suspended for 18 months, and disqualified from driving for 24 months. He was also ordered to carry out 150 hours of unpaid work.
All three will also have to retake their test should they wish to drive again.
PC Chris Welsh, of the Serious Collision Investigation Unit, said "This has been a shocking investigation into some of the fastest and most dangerous motorcycling I have ever come across.
"The speeds and general aggressive manner of the riding identified are simply ridiculous and leave no room for error should the slightest of issues have occurred.
"Not only are the riders risking their own lives, but also those of the other road users around them throughout these journeys.
He continued: "This sentencing should act as a stark reminder of the consequences of such behaviour on the roads in Sussex.
"We will not tolerate dangerous driving by any motorist on our roads, and anyone caught committing such offences will be investigated and dealt with robustly."