Buying deadly fentanyl on social media is like playing 'Russian roulette', warns NCA
16 September 2019, 07:28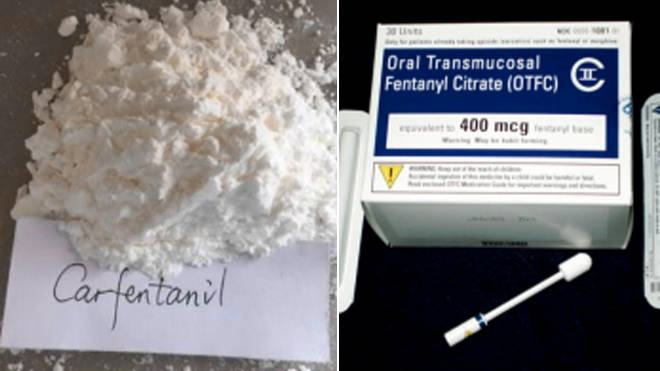 Social media websites need to "actively" clamp down on sales of killer opioids, the anti-drugs chief at 'Britain's FBI' said today.
Social media sites are being exploited by crime gangs to sell the deadly drugs, according to the National Crime Agency's (NCA) Head of Drugs Threat Lawrence Gibbons MBE.
Mr Gibbons told Global's Newsroom that many of the bigger social media sites are being used to sell fentanyl or fentanyl analogues, synthetic opioid drugs that can be 100 times stronger than morphine.
One of the substances being sold online, carfentanil, is 10,000 times stronger than morphine - meaning a 'hit' the size of just three grains of sand would be enough to kill a human being.
The drugs are being sold openly on the internet as well as the 'dark web', according to the NCA, with individuals openly seeking out sellers using social media.
The use of fentanyl analogues causes considerable harm to users, the NCA is targeting sellers of these substances online. If you provide social media services, domain or content hosting and are worried about the sale of fentanyl analogues, see here https://t.co/SMBH7jSwDI

— National Crime Agency (@NCA_UK) September 13, 2019
Mr Gibbons said people are playing "Russian roulette" with their lives if they choose to purchase opioids on social media.
He wants big web firms such as Facebook, Twitter, and Snapchat to do more to self-regulate and help the NCA bring anyone responsible for dealing to justice.
Facebook says it blocks and filters hundreds of terms associated with drug sales. The firm is using new technology to identify people who might try to sell drugs, including being able to identify pictures of drugs. It also said it took action on 900,000 pieces of drugs content, with 83.3 per cent of it being deleted proactively earlier this year.
Mr Gibbons said: "All of the sites to some degree are being exploited by both individuals and groups of criminals.
"Websites are being encouraged to self-regulate to actively look for criminality and remove them themselves.
"They all have the capability and analytical tools to identify names and nicknames of substances, and where they are being sold."
Fentanyl is estimated to have claimed as many as 30,000 lives in the US in 2017.
"Buying fentanyl or fentanyl analogues is extremely dangerous," Mr Gibbons said.
"Carfentanil was originally created to go into darts for large game animals like hippos and rhinos and only takes a tiny amount to bring down a two-tonne elephant. In humans, it can take just 10-15 minutes to cause death.
"Some people might know they are buying fentanyl or fentanyl analogues, but there are others who are purchasing what they believe to be heroin, where the supplier has mixed it with other substances.
He said drugs sold on social media are often mixed with bulking agents in household blenders so drug users can find themselves in a "Russian roulette" scenario which can easily lead to overdose.
"There is no guarantee of the strength of the drug," he said.
"If you were to lay the product out on the table and take a gram from one area, it may have no fentanyl.
"But if you were to take a gram from the other end of the table it could have so much fentanyl in it that it will kill you.
"It is a Russian roulette scenario."
Mr Gibbons said the problem is not one that can be easily tackled or monitored as criminals continually change where they are selling to keep one step ahead of the law.
Payments are made using cryptocurrencies such as Bitcoin and computer servers are hosted abroad, making it a challenge to track exactly where the supplies are coming from, he said.
Although many suppliers may be individuals selling from home, a large amount are thought to be sophisticated criminal gangs operating in shifts so they can sell drugs 24 hours a day.
Mr Gibbons continued: "There isn't one particular social media site that is used predominantly all the time.
"You'll all of a sudden see numerous sites go up on one or two platforms but when they get removed, be it because of law enforcement or the sites doing it themselves, you'll see adverts appear somewhere else.
"The NCA together with other law enforcement are always in contact with numerous companies, but we aren't the only organisation that is targeting criminality on those sites."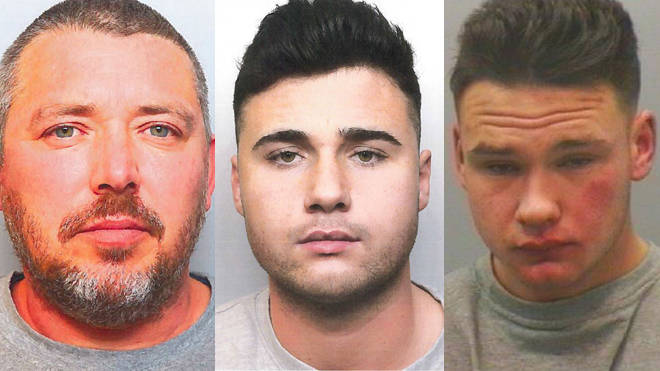 In January last year, Jake Levene, 23, Lee Childs, 47, and 22-year-old Mandy Cristopher Lowther were jailed for a total of more than 43 years after running a site on the dark web selling fentanyl and carfentanil from a warehouse in Leeds.
When the location was raided by officers, 440g of pure carfentanil was seized, making it the single largest seizure of the drug to date in Europe.
In total, 2.6kg of carfentanil was recovered from the warehouse.
They made £163,474 by selling the drugs to customers in the US, Germany, Norway, Canada, Australia, Argentina, Canada, France, Singapore, Holland and Spain.
A Facebook spokesperson said: "Buying, selling or trading Opioids on Facebook is banned under our rules. We block and filter hundreds of terms associated with drug sales and any time we become aware of this content on Facebook, we remove it.
"We're focused on getting faster at finding and taking down this content and earlier this year we took action on 900,000 pieces of drug sale content; 83.3% we detected proactively."
A spokesperson for Snapchat said: "It is completely prohibited to use Snapchat for any illegal activities including to buy or sell illegal drugs.
"We encourage any Snapchatter who sees something like this - or any other violating content or activity - to report it using our easy in-app reporting tools."
Twitter said it takes the safety of its users "very seriously."
A spokesperson added: " We do not allow the use of Twitter for any unlawful behaviour or to further illegal activities, which includes selling, buying, or facilitating transactions in drugs and controlled substances."