Three men dead in street after 'horrific' triple stabbing in east London
20 January 2020, 05:54
Three men have died after being stabbed in a clash between rival groups of Sikh men in a street in east London.
The men were all found stabbed in Elmstead Road, Seven Kings, in Ilford, on Sunday evening at 7.38pm. They were all pronounced dead at the scene.
Scotland Yard said all of the victims are believed to be aged in their 20s or 30s.
Police said this morning the deaths resulted after a "coming together" of two groups, believed to be from the Sikh community, who were thought to be known to each other.
A resident told LBC that he heard a man screaming: "Help me, help me, help me" as he lay dying in the street.
Hardev Singh said: "I could just hear someone crying help me, help me, help me - the police got there five or six minutes later, it's very shocking."
Footage shared on social media showed one of the victims lying in a pool of blood at the foot of some stairs near Seven Kings station.
Former professional boxer Wadi Camacho shared the short video of the aftermath on social media.
Mr Camacho wrote online: 'Trust me they are gone. The 2men eyes fully open not moving and bleeding from his neck. Bloody everywhere.'
He told his followers to be careful if they were in the area.
Labour Leader of Redbridge Council Jas Athwal posted: "A deeply distressing night has just got a lot worse. Deeply saddened by the deaths of 3 young men in Seven kings as a result of knife crime.
"I have asked for extra police resources. The Mayor has promised every help that is needed and the council will assist in any way it can."
Deputy leader of Redbridge Council Kam Rai wrote online: "Horrific, 3 men stabbed in Seven Kings / Goodmayes area. Knife crime is becoming all too common, we need a national strategy and more police resource now."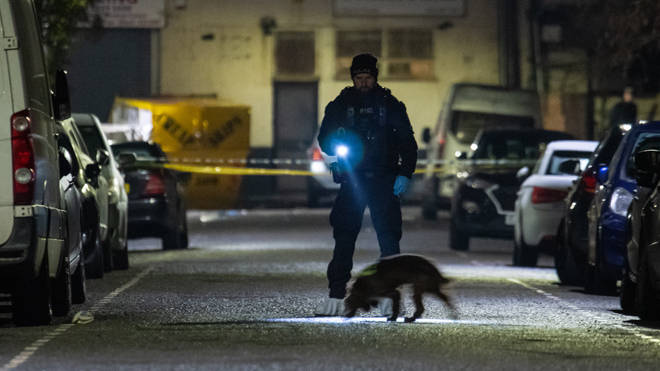 Chief Superintendent Stephen Clayman said the arrested men and the victims were all known to each other.
"We believe the groups involved are members of the Sikh community."
Officers are still contacting members of the dead men's families, he said.
"It was a horrific scene for anyone to come across and my heart goes out to the families and those affected by it because it is unprecedented to have something like this," he added.
"Police are still investigating a motive but have ruled out terrorism, he said.
The London Ambulance Service said they had a report of a stabbing outside of Seven Kings station.
A spokesman said: "We sent a number of resources including three ambulances, three medics in response cars, two critical care paramedics, two incident response officers and our hazardous areas response team (HART). We also dispatched London's Air Ambulance.
"Sadly, despite the efforts of medics, three males were pronounced dead at the scene."
Two men, aged 29 and 39, have been arrested on suspicion of murder.
London Mayor Sadiq Khan said today: "The horrific triple stabbing in Seven Kings in Redbridge last night is a tragic reminder of the evil scourge of knife crime that continues to plague our entire country.
"I have been working closely with senior Met police officers, Redbridge Council and the local MP on the response overnight and will do everything possible to support the local community in Seven Kings through this extremely difficult time.
"The only way we will tackle knife crime for good is with a laser-like focus on catching criminals by being tough on crime and, just as importantly, by addressing the underlying root causes of violence such as poverty, inequality and social alienation.
"This will require a huge increase in Government funding for public services."
Mr Khan tweeted that extra police enforcement powers have been authorised for the whole of Redbridge borough until Monday at 8am.
Formal identification of the deceased has yet to take place, and officers are working on informing the next of kin.
Post-mortem examinations have also yet to be arranged.
This story is being updated