Two Girls Caught On CCTV Carrying Stolen Pig Sculpture Through City Centre
30 November 2017, 13:06 | Updated: 28 October 2019, 15:21
Two teenage girls carried a stolen giant pig sculpture through a city centre and it was all caught on CCTV.
The statue, weighing 30kg, disappeared from a Christmas maze in Gloucester at about 09:15pm on Sunday night.
It had been decorated in a collage of wrapping paper and tinsel by artist Russell Haines.
It was on display as part of the Henson Pig Trail across the city and had been revamped to become the centre piece of the maze in King's Square.
The footage shows the girls marching along with the pig on their shoulders - even while cars passed by.
Jason Smith, chief executive of Marketing Gloucester, urged for the sculpture to be returned.
He said no charges would be pressed if it was given back by the end of the week, but police had been passed the CCTV.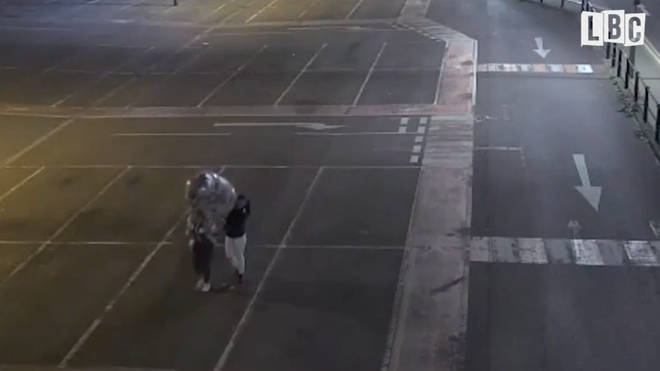 A spokesman from Marketing Gloucester said: "Although we understand that high spirits at this time of year can lead to people doing things they might not do normally, it is important to realise that many children are expecting to see the Secret Garden Nursery-sponsored Henson Pig at the centre of the maze and will be very disappointed that it is missing.
"We are hopeful that in the cold light of day the consciences of those people who took the pig will motivate them to return it before matters get worse.
"To remove property that does not belong to you is theft and we greatly appreciate any information that will lead to the Henson Pig's recovery."