Watch shocking moment HGV driver does 'dangerous' U-turn across the M6
24 February 2020, 10:15
Watch the moment a lorry driver goes the wrong way down a motorway slip road before pulling out into the live lanes and doing a U-Turn on the M6.
Staffordshire Police released the CCTV footage as a warning to other motorists, the force said the driver has been jailed for six months and banned from driving for 15 months.
The shocking footage shows the lorry driving the wrong way down a slip road on the M6 toll road heading towards oncoming traffic.
As the lorry approached the busy motorway one car can be seen flashing its headlights in a bid to alert the driver.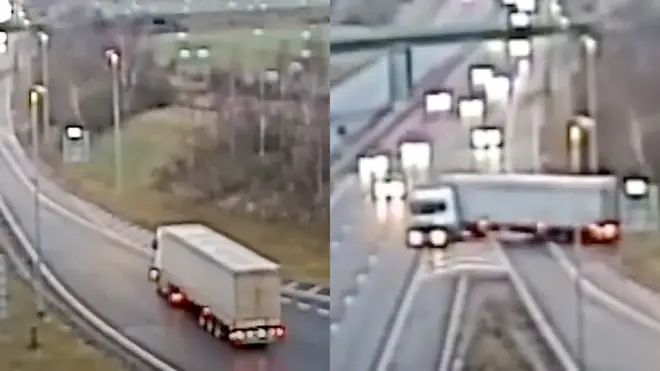 After a few moments, the lorry starts to edge out into the live carriageway before pulling in front of fast-moving cars as preforming a U-Turn.
A police spokesman said of the footage: "Imagine this on your morning commute.
"The driver of this lorry was jailed for six months and disqualified from driving for 15 months after he was caught driving dangerously on the M6 Toll last month.
"Thankfully no-one was injured."