Who Killed 'Baby M'? Aldershot Park Murder CCTV Released
16 January 2018, 09:59 | Updated: 28 October 2019, 15:21
Previously unseen CCTV from the night a baby girl was murdered in a park in Aldershot has been released by Hampshire Constabulary.
"Baby M" died in May 2017 and police are relaunching their appeal for information.
The footage is from a private security camera.
It has been enhanced and shows two individuals making their way up and down Ash Road in Aldershot during the time window in which police suspect the baby was murdered.
The baby girl's body was found in bushes in Manor Park at around 1.30pm on Friday 19 May 2017.
She died as a result of "deliberate head injuries".
Senior Investigating officer, Detective Chief Inspector Dave Storey said: "It saddens us greatly that despite months of complex and detailed investigation we haven't identified the new born baby girl and her parents.
"We need to know why she was killed and bring the person or people responsible to justice."
Police believe the baby girl was born in bushes next to the park.
She was then killed and her body abandoned in the park "between 6pm on Monday 15 May and 8am on Tuesday 16 May."
Authorities have been able to narrow down the window in which the offence took place thanks to forensic support.
DCI Dave Story said: "This in turn allowed us to look more closely at the CCTV we had seized and find two people we would like to identify as they may hold vital information."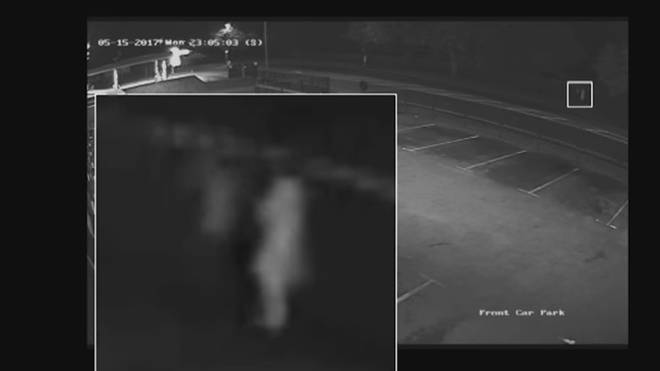 Her mother has still not been found eight months on.
Police believe identifying the baby's parents is key to understanding why she was killed and the circumstances leading to her tragic death.
Hampshire Constabulary said: "We have a baby girl, without a name and a proper burial, please help us find out what happened."
Officers will be speaking to residents in the Manor Park area as they continue to hunt for the killer.
If you have any information relating to this case you can call 101 quoting reference '44170188442'.
You can also contact Crimestoppers anonymously.