NHS Apologises Over "Sexist" Recruitment Posters
22 May 2017, 08:39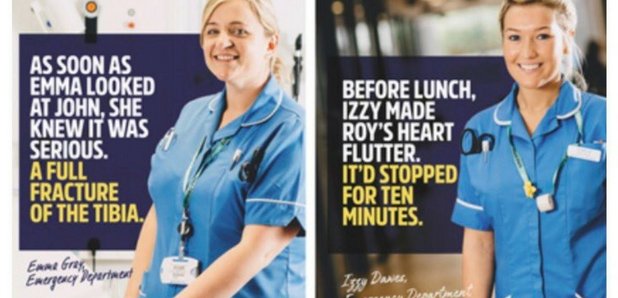 A series of NHS recruitment posters have been branded sexist.
The adverts for NHS in Hull and East Yorkshire were criticised for bringing back the 1970s' views of women.
The posters feature a picture of a young female nurse standing in a hospital corridor.

One has the caption: "As soon as Emma looked at John she knew it was serious. A full fracture of the tibia."

A second advert on a similar theme reads: "Before lunch, Izzy made Roy's heart flutter. It'd stopped for ten minutes."
People on Twitter were upset by the adverts, writing:
Seriously? Where are they hoping they'll work? The 1970s? Are we not in more enlightened times? @HSJEditor https://t.co/Ne9zjPwCoD pic.twitter.com/aCiFYynJEO

— Iain Beardsell (@docib) May 16, 2017