'Harry is a Prince, there is a risk': Bodyguard calls for Met protection amid legal storm
15 January 2022, 22:38 | Updated: 17 January 2022, 11:26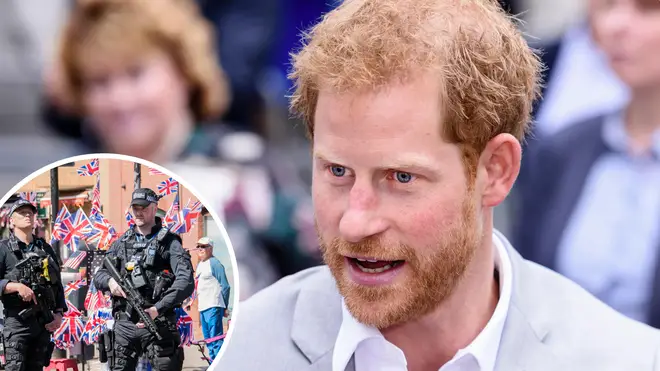 Police chiefs have been accused of ignoring the risks around Prince Harry after refusing to grant his family police protection in the UK.
Harry has applied for a judicial review of the decision which he says leaves him "unable to return to his home" despite being willing to pay for any costs associated with the officers.
Today intelligence and security specialist Alex Bomberg told LBC this morning: "He is still a prince of Great Britain. The fact he's stepped back from royal duties is beside the point, he's still at risk, he's still at the same risk he was before."
He added: "He should be entitled to [police protection]... There's a lot of people in the press taking a very nasty stance against Meghan and Harry and this is part of it I think."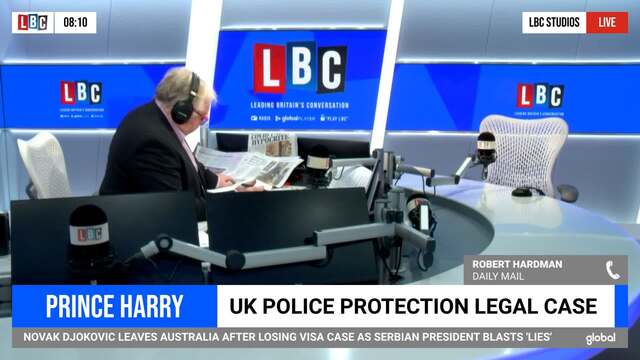 Royal journalist reacts to latest Prince Harry security row
The Sussex's say that they feel visiting the UK is "too great a personal risk" without police protection.
They say his security was compromised by paparazzi chasing his car following the unveiling of a statue commemorating his late mother at Kensington Palace last July.
A legal representative for the Duke said: "Prince Harry inherited a security risk at birth, for life. He remains sixth in line to the throne, served two tours of combat duty in Afghanistan, and in recent years his family has been subjected to well-documented neo-Nazi and extremist threats.
"While his role within the institution has changed, his profile as a member of the royal family has not. Nor has the threat to him and his family."
But experts pointed out that Scotland Yard does not have a pool of specially trained officers sitting idle, adding: 'You can't just hire the services of Scotland Yard as and when you feel like it.'
Royal protection officer Ken Wharfe said: "Police protection should not be for sale. Prince Harry has an outrageous cheek, demanding a full royal security detail to be reinstated when he visits the UK."
Lilibet, who is now seven months, has yet to meet her great-grandmother the Queen, grandfather the Prince of Wales and other members of the family face to face.
Harry, Meghan and their family would automatically be protected by royal security if they were to visit the Queen or were in residence at their Frogmore home, which is on the Queen's private Windsor Estate.
The issue would be if they wanted to undertake potentially lucrative private business, charitable or social activities elsewhere.
Lilibet, who is now seven months, has yet to meet her great-grandmother the Queen, grandfather the Prince of Wales and other members of the family face to face.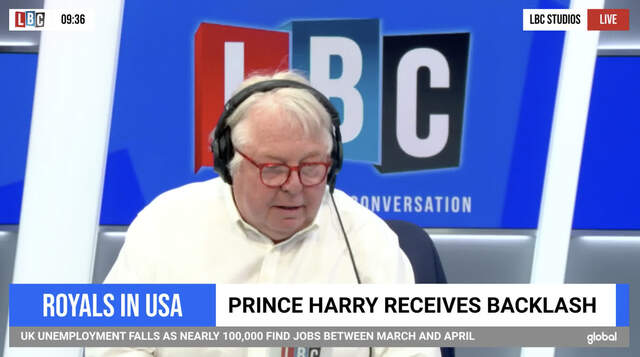 Royal expert 'feels sorry' for Prince Harry
The statement continued: "The Duke and Duchess of Sussex personally fund a private security team for their family, yet that security cannot replicate the necessary police protection needed whilst in the UK. In the absence of such protection, Prince Harry and his family are unable to return to his home.
"The duke first offered to pay personally for UK police protection for himself and his family in January of 2020 at Sandringham. That offer was dismissed. He remains willing to cover the cost of security, as not to impose on the British taxpayer.
"As is widely known, others who have left public office and have an inherent threat risk receive police protection at no cost to them. The goal for Prince Harry has been simple - to ensure the safety of himself and his family while in the UK so his children can know his home country.
"During his last visit to the UK in July 2021 - to unveil a statue in honour of his late mother - his security was compromised due to the absence of police protection, whilst leaving a charity event. "After another attempt at negotiations was also rejected, he sought a judicial review in September 2021 to challenge the decision-making behind the security procedures, in the hopes that this could be re-evaluated for the obvious and necessary protection required.
"The UK will always be Prince Harry's home and a country he wants his wife and children to be safe in. With the lack of police protection, comes too great a personal risk. "Prince Harry hopes that his petition - after close to two years of pleas for security in the UK - will resolve this situation. It is due to a leak in a UK tabloid, with surreptitious timing, we feel it necessary to release a statement setting the facts straight."
Ultimately, the decision to strip Harry and his wife of their taxpayer-funded security was taken by Home Secretary Priti Patel on the basis of a committee made up of representatives from the Home Office, the Met's Royal protection officers and palace officials.
Why the treatment of Harry and Meghan is pathetic
Harry was furious at the decision and revealed that he "pushed back" during his controversial tv interview with Oprah Winfrey last year.
The row was reignited when the duke briefly returned from LA last year for the July 1 unveiling of the Diana, Princess of Wales memorial statue.
On June 30 he also met seriously ill young people at a WellChild event in Kew Gardens, west London.
He claims his American security team, who are not allowed to bear arms in the UK or access Scotland Yard's intelligence systems, were 'compromised' after he was chased by photographers.