22,000 Met Police Officers To Use Body-Worn Cameras
17 October 2016, 09:52 | Updated: 17 October 2016, 11:17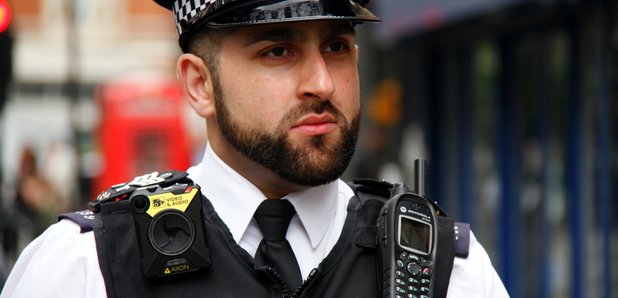 The Met Police says more than 22,000 officers in London are to be equipped with body-worn cameras.
It is believed to be the largest roll-out of its kind anywhere in the world.
All of the footage in this report below was filmed using a body-worn camera.
The Met released footage from their trial of body-worn cameras, which shows officers arresting a suspect, before he assaults the officer and tries to strangle him.
A struggle ensues before the suspect is handcuffed and further arrested for assault on police. This footage was played in court.
Metropolitan Police Commissioner, Sir Bernard Hogan-Howe, said: "Body Worn Video will support our officers in the many challenging situations they have to deal with, at the same time as building the public's confidence.

"What we do every day will be seen by the public - that has to be good!"
London Mayor Sadiq Khan, said: "Body Worn Video is a huge step forward in bringing our capital's police force into the 21st century and encouraging trust and confidence in community policing.
"This technology is already helping drive down complaints against officers and making them more accountable, as well as helping to gather better evidence for swifter justice. As we roll them out across London, these cameras will make a real difference to officers, as they continue their great work on the frontline fighting crime and keeping our city safe."