Reckless "Idiot" Risks Life Leaping Across Tracks In Front Of Tube Train
20 December 2017, 16:46 | Updated: 21 December 2017, 07:16
A video has emerged on social media appearing to show a reckless daredevil leaping in front of an oncoming Tube train at Stratford station.
The eight-second clip, uploaded to Instagram, has been viewed more than 21,000 times.
Viewers have slammed the stunt, titled: "P.t 2 Of Jumping To Conclusions. T@g Someone Who Jumps To Conclusions Too Quickly".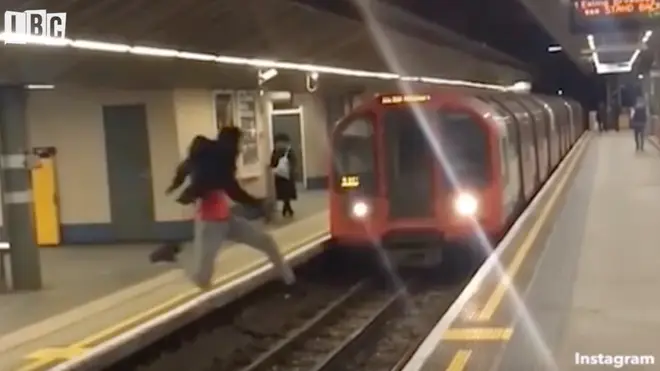 One wrote: "This isn't even funny".
While another added: "what an idiot!!!"
It's not known when the stunt took place, but Transport for London (TfL) says it's investigating.
A statement reads: "This behaviour is extremely reckless and will not be tolerated.
"The actions of this individual not only pose a risk to his personal safety, but also the safety of the driver and passengers.
"We are working with British Transport Police to ensure appropriate action is taken."