Flying Squad Take Down Moped Gang In Dramatic Swoop
24 November 2016, 18:03 | Updated: 24 November 2016, 18:07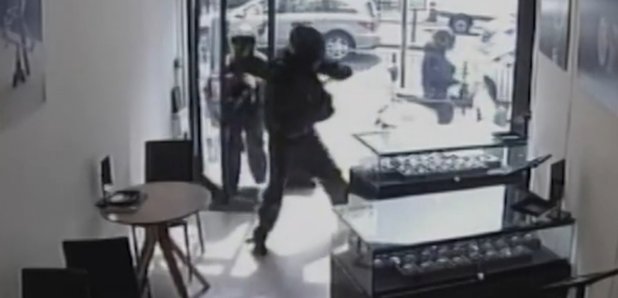 See the Met Police Flying Squad raid that left five officers hurt but thwarted an attempted smash and grab watch robbery.
One officer even sustained a fractured skull in the operation, when he was struck by a moped driven by a member of the gang who was trying to flee.
Charlie Kavanagh, 26, Stephen Hopkins, 29, James Symes, 30 and Johnny Kyriacou, 25 were jailed today after pleading guilty to conspiracy to rob.
It all happened in August when the gang tried to raid the high-end Chronext shop in Piccadilly. Unknown to them, police had intelligence that the robbers were planning to strike and were waiting.
At 11.25am, they pulled up in mopeds outside the shop and kicked the security door in. Smashing the glass screens around the watches with a hatchet, the robbers were immediately challenged by the waiting Flying Squad officers.
The video shows their attempted escape, including the moment Kavanagh tried to drive through three officers to get away.
The injured officer reacted to Kavanagh's life sentence by saying: "I suffered a number of injuries which have had, and which are still having, an impact on my day-to-day life.
"I'm alarmed at the extent of my injuries as all I did was go to work one day and I ended up on the operating table a couple of days later.

"It is too early to say what the long-term prognosis is going to be and whether there will be any psychological consequences. I have been in a considerable amount of pain since the incident, especially post-op in relation to my head.
"These injuries, specifically the brain injury, could affect my future career in the police. I'm also unable to drive for up to a year and this has a huge impact on my lifestyle and mobility."