London City Airport Evacuated After "Chemical Incident"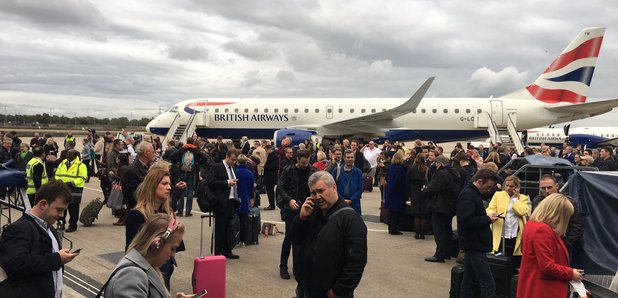 London City Airport was evacuated this afternoon when a fire alarm was activated.
(Picture: Twitter / @guru_chris)
The terminal was evacuated and emergency crews are attending what is being described as a "chemical incident".
All flights to and from the airport are currently suspended.
Still waiting to get through at #LCY. Sheltering from spots of rain under the wing of a plane. Apparently there was a fire. pic.twitter.com/auzAiekcsY

— Chris Daly (@Guru_Chris) October 21, 2016
The alarm was sounded around 4:15pm this afternoon, which led to passengers being taken off planes and terminals being evacuated. Three fire engines and a number of ambulances attended the scene. 26 people have been treated by emergency services with two people being taken to hospital.
Boxer David Haye, who was at the airport to catch a flight to Scotland, tweeted that the airport was evacuated when "everyone started coughing uncontrollably!"
A witness who was evacuated from the airport told LBC that blankets have been given to children and that food and water is being given out. However, no further information has been provided to passengers.
A taxi driver, Paul, who was waiting outside the terminal was asked if the back of his cab could be used to treat someone who was taken ill with "itchy eyes". Speaking to Iain Dale, he said he is now being told he can't leave the scene with his car. Listen to his eye witness account:
More to follow...