Mogg Leads Pro-Brexit Protesters In Fish-Throwing Stunt On The Thames: Watch It Happen
21 March 2018, 07:13 | Updated: 21 March 2018, 09:56
Live On The Fish Dumping Protest

LBC is live on the fishing boat which is heading to Parliament to dump fish in the Thames in a protest over the Brexit transition deal. Watch live.

Posted by LBC on Wednesday, 21 March 2018
Protesters are planning to dump fish in the River Thames near the Houses of Parliament this morning, to demonstrate against the Brexit transition deal.
Fishermen and some MPs are angry the UK will effectively remain subject to the EU's Common Fisheries Policy during the 21-month period.
LBC is on the fishing boat - and you can watch the whole protest live right here.
Fishing For Leave revealed: "The fishing boat Holladays R8 will pass through Tower Bridge at 8am and sail upriver before tying up at Embankment pier 0830. Where there will then be a press conference with the chairman of the ERG, Jacob Rees-Mogg, MP, and other Conservative MPs with fishing constituencies.
"The Holladays will then sail with Craig McKinley, MP, and Ross Thompson, MP, and set off again and pass parliament, where she will symbolically dump fish in protest at the British fishing industry being trapped and subjected to another 21 months of the inept Common Fisheries Policy which could see much of the UK fleet put out of business."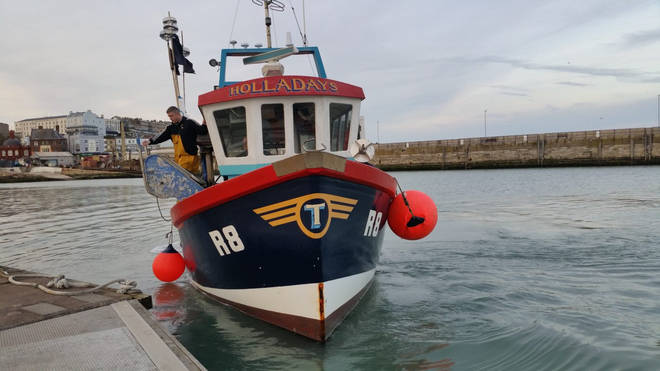 Speaking to Nick yesterday, Tory backbencher Jacob Rees-Mogg criticised the Brexit transition deal, calling it "regrettable".
He said: "I don't think the government should have conceded on fish."
He did, however, deny that he would be throwing fish into the Thames himself.
The protest will start near The City at 7.30, passing under Tower Bridge before heading to Westminster.
Mr Rees-Mogg will give a speech, before the fishermen will dump the fish in the river outside of the Houses of Parliament.