Anti-Litter Posters Branded "Racist" For Showing A Black Man As A Criminal
1 November 2017, 13:37 | Updated: 1 November 2017, 15:55
A council's anti-littering campaign has been branded "racist" after it used a poster which looks like a police mugshot, and features a black model.
The controversial advert appeared in Kilburn, north London, and shows a black man holding a placard with the hashtag "#CrimeNotToCare" alongside the strap line: "Your rubbish your responsibility".
However, a local councillor has lodged a complaint with Labour-run Brent Council after a resident argued the sign was "racist".
John Duffy, Labour councillor for Kilburn, wrote in a letter to the local authority: "I believe the signs are inappropriate and could be seen as an attempt to stereotype persons of colour as the culprits of crime."
He added: "It is also conceivable that [the sign] used a mugshot of a young black man against a background commonly used by [Los Angeles Police Department] …as offensive to many people".
"I am asking you to remove these signs forthwith from Kilburn, other councillors can make their own mind up."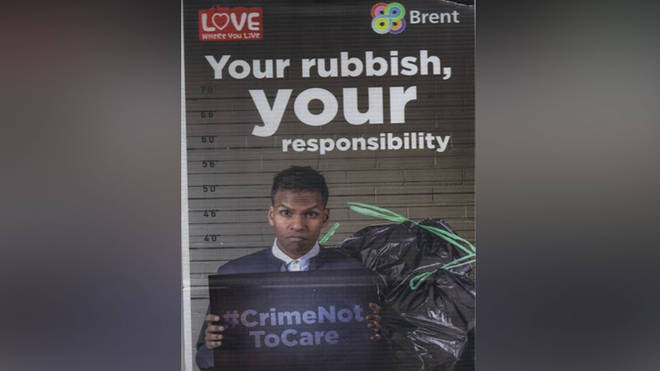 A spokesman for Brent said the posters were part of a national effort featuring a series of different pictures which would be put up "one by one".
"The imagery on this poster is part of a national campaign run by Keep Britain Tidy which is being used by Brent along with at least 30 other councils," said the spokesman.
"We want everyone to enjoy an environment free of illegally dumped rubbish and attempts to undermine the campaign by twisting things to create division are dishonest and unhelpful.
"We are proud of the fact that we have a strong track record of using a diverse range of people in our communications and to try to create a row over a single poster is ridiculous."
What do you think?