Brave Restaurant Customers Use Bar Stools To Fight Off Moped Raider
10 November 2017, 14:26 | Updated: 17 January 2018, 16:37
Brave customers managed to fight off a moped rider using bar stools as he tried to steal a laptop from a north London restaurant.
The helmet-wearing robber was caught on CCTV marching towards the counter at Bar Esteban in Crouch End on Tuesday night.
The video shows the thief attempting to snatch the computer while a staff member worked on it.
But, the worker managed to grab hold of a security wire which was attached and pull the device back.
Shocked customers then burst in to action and confront the man.
They can be seen picking up bar stools as one man chases the robber on to the street.
Gessica Lastrucci, who was working on the laptop at the time, said: "It all happened in seconds. I didn't understand what was going on at first."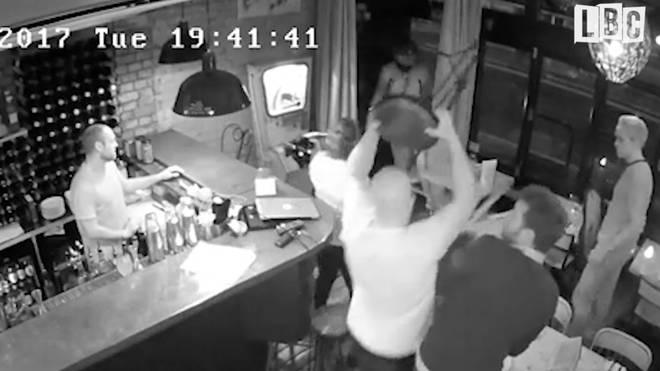 She claimed: "When the [suspect] came back in I thought he was going to hurt me.
"I'm so thankful to the customers but we're not heroes.
"We've never had trouble like that. I was in shock afterwards."
The Metropolitan Police said it was now hunting the two moped-riding suspects.
A spokesman said: "Two suspects entered the premises in Park Road and grabbed a laptop from a table.
"The laptop was dropped at the scene and the suspects made off on mopeds.
"A hammer was recovered at the location.
"No arrests have been made."