Half Of Safety Recommendations After Croydon Tram Crash Haven't Been Carried Out
29 October 2018, 08:23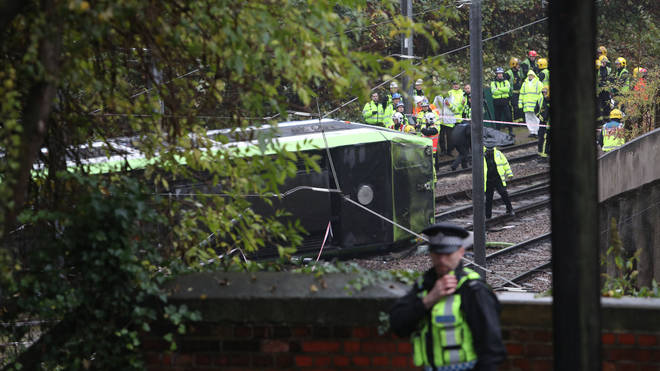 An LBC investigation has found half of the safety recommendations put forward after the Croydon Tram Crash have still not been met in London.
This comes nearly two years after the disaster that killed seven people, injuring more than 60 others.
Last December, an investigation by the Rail Accident Investigation Branch made 15 recommendations to the industry to make it safer.
But today LBC can reveal that seven of those 15 are still incomplete.
Among the safety recommendations which haven't been met are:
- Automatic braking when approaching dangerous spots too quickly
- Strengthening the windows and doors
- Improving emergency evacuations when a tram is on its side
- Emergency lighting.
Marilyn Logan's husband Philip died when the windows broke as the tram overturned. She described the lack of action as a disgrace, saying: "I'm disgusted, absolutely disgusted.
"It could happen again and I feel like his life has been taken in vain because they haven't learnt."
Ms Logan believes that the changes so far haven't gone nearly far enough, adding: "Do something positive that's going to slow a speeding tram down, which in effect could stop the accident."
Mayor of London Sadiq Khan promised that the trams are safe and insisted TfL are acting as quickly as possible. He told LBC: "You have to buy the new equipment, whether it's automatic braking or it's changing the windows.
"That's what TfL have been doing. What TfL haven't been doing is saying they don't accept the recommendations.
"As far as the procurement for the new trains and for the new windows, TfL have accepted the recommendations."
Ian Prosser, the Chief Inspector of Railways, defended the amount of time this has taken, saying it's about prioritising what needs to happen first.