Forest Gate Protest: Hotelier Feared For His Life During Riot
26 June 2017, 08:46
This Forest Gate hotelier was fearing for his life as angry protesters smashed windows, threw bricks and rammed an extinguisher at his door.
A demonstration over the death of a man who had been stopped by police turned violent last night, leaving six police officers injured.
Bins were set alight and bricks were thrown at riot police during the confrontations.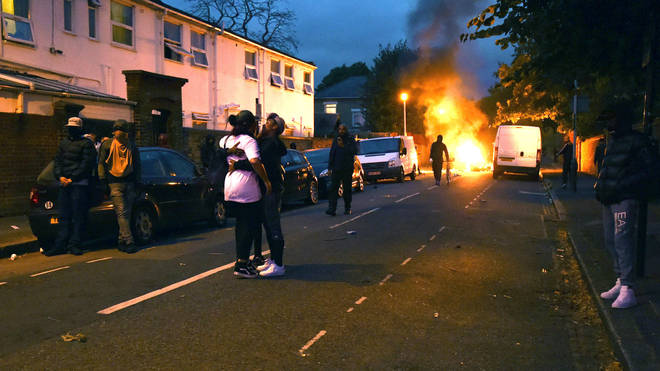 The hotelier told LBC: "I was very fearful. There were protests going on, which started at 7:30pm and went until four in the morning.
"They wanted access to the police station and from there, the police escorted them over here.
"They were burning cars, all sorts of things. Throwing bricks, beer bottles.
"I haven't seen anything like this before."
He revealed that the protesters tried to break into his hotel, adding: "They were trying to smash the windows and they were trying to get in.
"They were looking for water, fire extinguishers and all those kind of things. But we wouldn't let them in."
The protest in Forest Gate started following the death of a man, who had been stopped in a car by police last week.
The police watchdog is investigating after 25 year-old Edir Frederico Da Costa, nicknamed Edson, died last Wednesday, six days after he was pulled over in Newham.