Moped Gang Rob Porsche Driver At Knifepoint In London Traffic
19 July 2017, 14:42 | Updated: 19 July 2017, 14:55
Frightful dashcam footage has captured the moment a moped gang robbed a Porsche driver at knifepoint as the driver queued in London traffic.
The shocking video emerged online and shows four thieves on two bikes ride up to the driver's window before one yob produces a blade.
The victim, who is in his 30s, was then threatened with the weapon as he sat in a queue in Ladywell Road, Lewisham on July 6.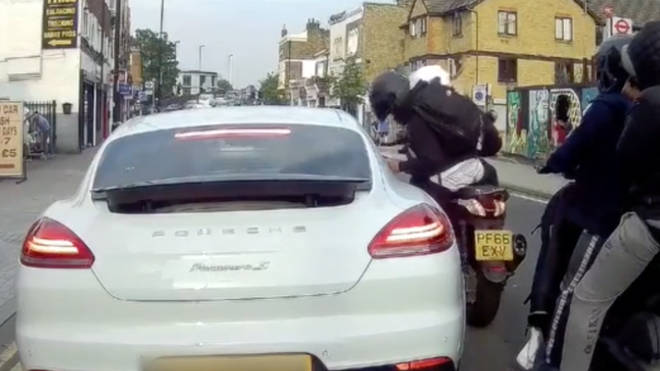 The gang took the man's watch before they were filmed speeding off in the opposite direction, the Met says.
A spokesman from Scotland Yard told LBC the victim was unharmed and no arrests have yet been made.
The video surfaced just days after another man had his foot broken when a moped gang attempted to steal his scooter.
The thieves left empty handed after a brave have-a-go hero intervened during the attack in Penge High Street on Monday evening.