This Is What To Do Next If You're Sprayed With Acid
14 July 2017, 13:39 | Updated: 31 August 2017, 13:58
There has been a worrying rise in the number of acid attacks across London - so this is what you should do if you're sprayed with a corrosive substance.
It comes as LBC reported a sharp increase in the number of attacks using acid in the captial.
Latest figures show there have been 400 attacks in last the six months, double the previous rate.
Acid can penetrate through to the victim's bone and in the worst of cases lead to death.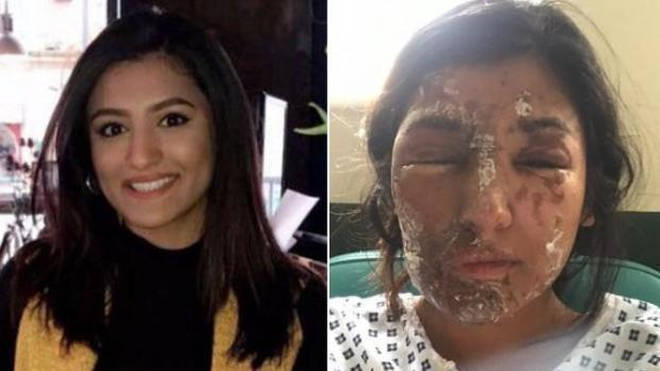 This advice from Stop Acid Attacks is how to treat an acid burn in the immediate aftermath once you have dialled 999.
1. The most important step is to immediately wash the affected body part with plenty of fresh or saline water
2. Dirty water can cause severe infection, so only rinse the burn with clean water
3. Keep flushing the burn with cool, but not very cold water until the burning sensation starts fading. This could take up to 45 minutes
4. Remove any jewellery or clothing which has had contact with the acid
5. Do not apply any cream or ointment as it may slow the treatment procedure by doctors
6. If possible, wrap the affected area in a sterilised gauze to protect the skin from air, debris, dirt and contamination
7. Get to A&E as quickly as possible
It's important that if you're helping somebody that you keep yourself protected.
Once initial hospital treatment is complete, acid burns need to be kept free from infection - with dressings changed reguarly.
Reconstruction surgery and physiotherapy may be required if nerves are permanently damaged.
You can find out more information about the aftercare process here.