Watch: RNLI Rescues Man Who Jumped Into The Thames To Save A Dog
12 June 2017, 17:45
Dramatic footage has been released of the moment an RNLI lifeboat crew rescued a man who'd jumped into the River Thames to save a dog.
The man was found clutching the dog while balancing on chains which were attached to the embankment wall.
The animal had accidentally fallen into the chilly London waterway on Sunday evening and was later reunited with his owner.
Thankfully both the brave man and the dog were unharmed - but the RNLI is warning people to avoid entering the water themselves.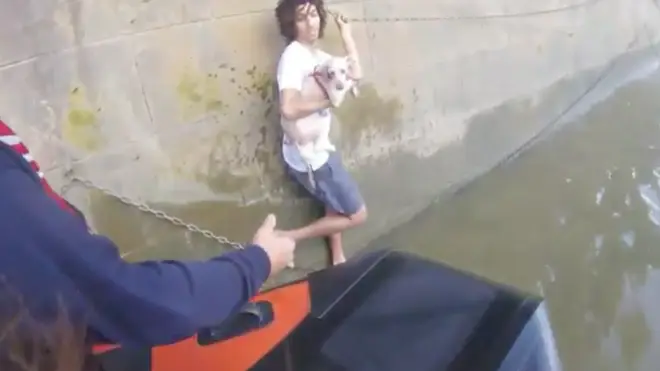 Mick Nield from the RNLI who was involved in the rescue said: "It appears the dog was let off its leash and without a thought leaped over the wall into the river.
"We were just glad both the man and the dog were OK. Both were very fortunate - whilst this was a brave act, the RNLI would not usually encourage people to go into rivers or the sea to save animals, as more often than not the person themselves can get into danger, further escalating the danger and the need for a rescue."
You can watch the dramatic rescue in the video at the top of this page.