Carnival Goers To Be Stopped From Taking Selfies At Grenfell Tower
25 August 2017, 07:05 | Updated: 25 August 2017, 08:29
LBC has learned that Transport for London and the Met Police are working to protect Grenfell Tower from selfie-takers, as two million people pass through Notting Hill for the carnival this weekend.
Their work includes using barriers to block off streets around the site, with extra police officers in place to make sure only residents can access the area close to the tower, as well as preserving the many tributes which have been left out on railings and walls.
Locals tell us it's to stop thousands of what they call 'grief tourists' from making detours during Carnival to get close to the building and take pictures and selfies.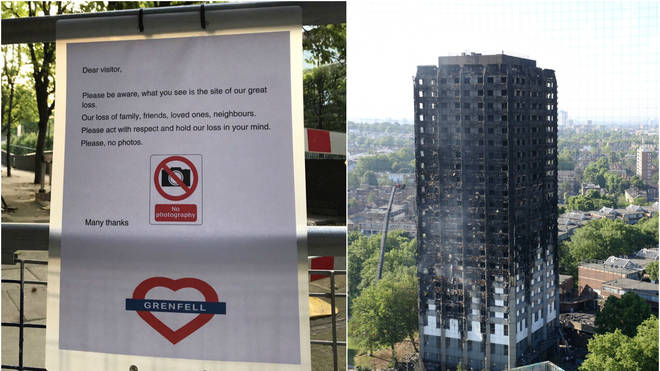 TfL, meanwhile, are doing even more. LBC's been shown an email that shows they've started putting up barriers along the railway line at Latimer Road station, and will be keeping tubes on the platform for longer to obscure the view of the tower. 
There will also be automated messages at stations and on the trains between Hammersmith and Paddington, reminding people to move quickly when they get off at Latimer Road station, to be respectful and not take pictures of the ruins.
Scaffolding is being put up outside Latimer Road to block views from outside the station.
The Met Police told LBC: "Work will pause inside Grenfell Tower over the August bank holiday. This is due to the practical difficulties to access to the site caused by the infrastructure needed to host the Notting Hill Carnival. On Tuesday, 29 August work will recommence.
"We have made changes to our policing operation for this year's Carnival to ensure that the local area around Grenfell Tower has extra officers on duty and protective barriers in place. This is to make sure that the security of the Grenfell Tower site is maintained and to protect the many items and memorials that have been placed near to Grenfell Tower."