Grenfell Survivor Shows LBC Around Burnt-Out 20th Floor Flat
12 July 2017, 06:58
This is all that remains of Emma's flat inside the Grenfell Tower. In this chilling video, she describes how each room looked before it was reduced to charred debris.
It's one month on since the deadly fire ripped through the north Kensington high-rise, killing at least 80 and leaving hundreds homeless.
It's been the worse tragedy in a generation and although Emma was lucky enough to escape, her once loving home has been utterly destroyed.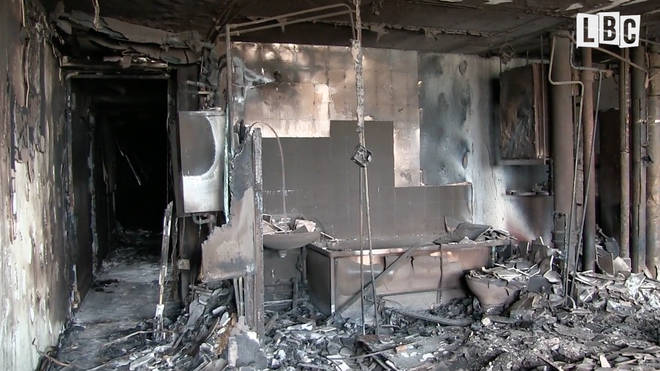 Supporting walls have collapsed and all that remains of her 20th-floor bedroom are the metal coils from her bed frame.
Emma's kitchen is only recognisable by the burnt-out washing machine, cooker and sink which remain upright on the rubbled-covered floor.
The Grenfell resident told LBC how "distressing" it was to see her apartment in such a state, as the camera pans to a charred exercise bike in what was the living room.
Emma was particularly upset that her "irreplaceable" dog's ashes had perished in the devastating blaze, which reached temperatures of 1,000C.