Campaigners Park Three Striking Billboards Outside Grenfell Tower
15 February 2018, 13:34 | Updated: 15 February 2018, 16:55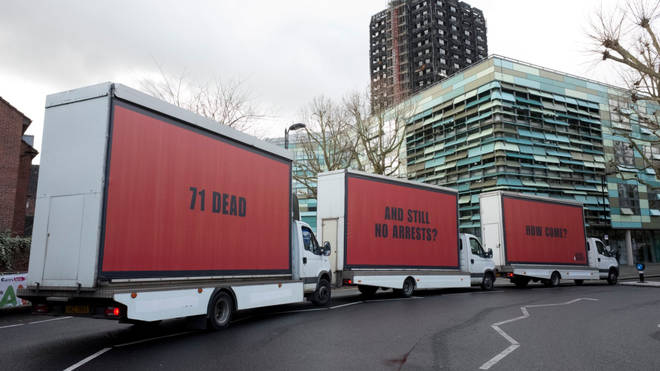 Three striking billboards calling for justice over the Grenfell tragedy have been parked outside the tower.
The 14ft tall signs, placed on the back of three vans, were also spotted outside the Palace of Westminster on Thursday.
The eye-catching message across the vehicles reads: "71 DEAD", "AND STILL NO ARRESTS?", "HOW COME?".
Photographs of the stunt have been shared widely on Twitter.
Campaign group "Justice 4 Grenfell" wrote: "3 Billboards Outside Grenfell, London. Listen to all our voices now; we demand #Justice4Grenfell. Please Retweet".
Social media praised the bold billboards.
One user wrote: "This is genius!"
Another added: "Well done! It's as if the government have forgotten this horrific preventable event."
The signs appeared eight months after 71 people were killed in the tower block blaze.
It follows a silent protest last night, which saw hundreds of people gather outside Kensington and Chelsea Council.