Chilling Footage Emerges From Inside Fire-Ravaged Grenfell Tower Block
16 June 2017, 13:54 | Updated: 16 June 2017, 13:56
The first chilling footage has emerged from inside the fire-ravaged Grenfell Tower, showing the calamity faced by firefighters and residents.
At least 30 people were killed when the west London block went up in flames in the early hours of Wednesday morning.
Firefighters say a "good half" of the building is yet to be searched in detail as relatives desperately continue to look for loved ones.
In the harrowing video, mangled debris and water hoses can be seen strewn across the bottom of building.
As the camera enters the inside of Grenfell Tower, the floor is visibly flooded after firefighters battled for hours to douse the blaze.
Water can also be seen pouring down the stairwell - showing the treacherous conditions faced by both residents and the emergency services.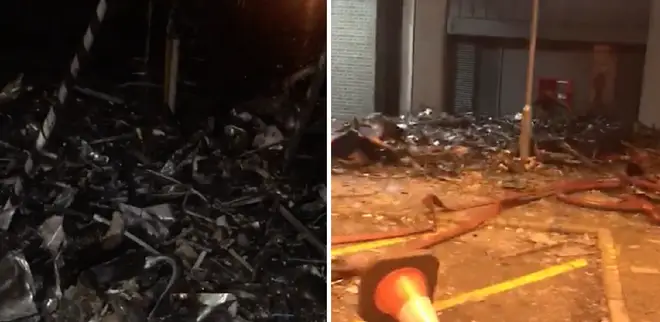 Meanwhile, the Queen and Prince William have met victims at a refuge centre close to charred remains of the tower block.
Her Majesty and the Duke of Cambridge visited the Westway Sports Centre where those who have been left homeless are being looked after.
In a statement released on Thursday, the Queen praised firefighters' "bravery" and the "incredible generosity" of the volunteers.